4 Federal Agents Shot In Kansas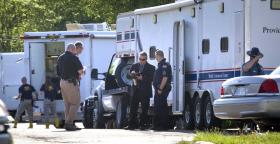 An arrest at a Kansas motel ended with four federal agents shot and the motel engulfed in flames.
Officers from the Unites States Marshall's Service were looking for a suspect Saturday night at the Country Club Motel.
When they reached the motel, someone opened fire and struck two U.S. marshals, an FBI agent and a fourth federal agent.  It was not immediately clear which agency the fourth agent belonged to.
Their injuries are not considered life-threatening.
About the same time, a fire broke out at the motel. That blaze burned for more than three hours, engulfing the building and sending flames high into the night sky,
WIBW
reported.
The agents have not been identified and the status of the suspect is not yet known.