5 Dallas Area Officers Dead, 6 Others Shot In Dallas Protest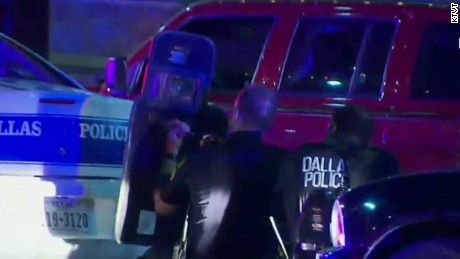 Five Dallas Area Officers Are Dead including 6 others shot when two snipers attacked them from a downtown roof.
One DART Officer and four Dallas Officers are deceased.
It is the deadliest attack on American Law Enforcement since September 11, 2001.
The shooting occurred just before 9 p.m. in Downtown Dallas where there were protests in regards to African Americans being shot by police across the country.  The protesters were marching near Lamar and Main Street when the shots were fired.
Dallas Police estimated 60 shots were fired at officers from a roof.
Dallas Police Chief David Brown said the suspect holed up in a downtown parking garage had exchanged gunfire with officers for 45 minutes and claimed "the end is coming", as well as saying that he had planted bombs across Dallas and wanted to hurt more officers.
Brown also said authorities had earlier taken a woman into custody near the garage. Two men were also being questioned after police pursued their vehicle away from downtown onto Interstate 35.
Brown said "our assumption" is that the four suspects were "working together with rifles, triangulating at different positions." He had no information on a possible motive or the identities of any of the suspects. He also noted that police were not completely certain that every suspect was in custody.