NFL Player Cyrus Kouandjio Tells Police To 'Shoot' Him In Bizarre Incident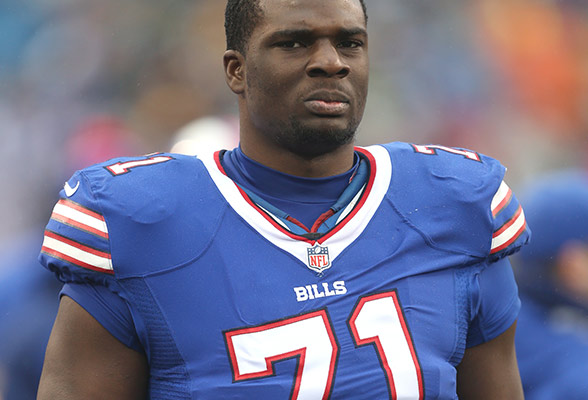 Buffalo Bills offensive tackle Cyrus Kouandjio was involved in a bizarre incident Wednesday morning with police not far from the scene of an accident Tuesday on Route 400 in Elma according to the Buffalo News.
Kouandjio was not arrested, but taken to Erie County Medical Center for observation.
Kouandjio was found in a T-shirt without pants wandering in a field after climbing over an electric fence, authorities said. When an Erie County Sheriff's deputy went to detain him, a police source said that the 6-foot-7, 322-pound Kouandjio yelled, "Shoot me!"
The football player initially parked his vehicle on the shoulder of the northbound lanes of the 400 and climbed over a guardrail to gain access to a farmer's field in the vicinity of Rice Road and Dellwood Drive, a second police source said, adding:
"He was acting real confused, but he was no threat. Patrol deputies determined he was Cyrus Kouandjio."
A farmer called 911 at about 9:30 a.m. Wednesday to report there was "large man" roaming around one of his fields.