New Ruling Places Officers At Risk For Lawsuit Using Taser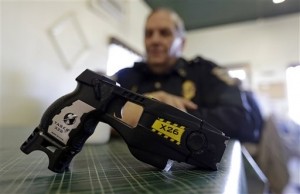 A Federal court recently put police on notice: They could lose on-the-job immunity from civil lawsuits if they use a Taser to shock suspects in the face of nonviolent resistance.
In a ruling this year from the U.S. Court of Appeals for the 4th Circuit, which includes Maryland, a panel of judges found it unlawful to use a Taser on an unarmed, mentally ill man who was holding on to a pole to avoid being taken into custody. The man died afterward.
The ruling could have a significant impact on department policy across the country.
At least one department — Norfolk police in Virginia — has taken Tasers from officers until it can rewrite its policy to ensure they aren't in legal jeopardy.
But Taser, which has supported police in their legal fights, contends that courts are basing their rulings on inaccurate information about the weapon, including how many volts it sends into a body.
Taser said the ruling "only muddies the waters and leaves law enforcement guessing," according to a motion the company filed to support an appeal, which was rejected.
The ruling has "caused significant confusion among law enforcement trainers and policymakers … leaving officers without what most experts agree is the safest, most effective less-lethal force option on an officer's tool belt," Taser said in the motion.
Many Taser encounters with Maryland police involve nonviolent resistance, which the courts have increasingly frowned upon.
The Baltimore Sun found that nearly 60 percent of those hit by Tasers from 2012 to 2014 were described by police as "non-compliant and non-threatening." As part of a six-month investigation, The Sun created a database with information obtained from the state through public records requests.
The Sun also found that in one out of every 10 incidents over the three year-period, police discharged the weapon for longer than 15 seconds — a duration that exceeds recommendations from Taser, the U.S. Department of Justice and policing experts.
In Maryland, some police agencies contend that the 4th Circuit's decision applies only to encounters with mentally ill suspects. Others say it's already their policy to avoid shocking people who are nonviolently resisting arrest.
Still others have elevated the Taser up the chain of acceptable force, so that officers must exhaust other means before resorting to the weapon, while others are rewriting their policies.