LAPD Officers Justified in Shooting of Homeless Man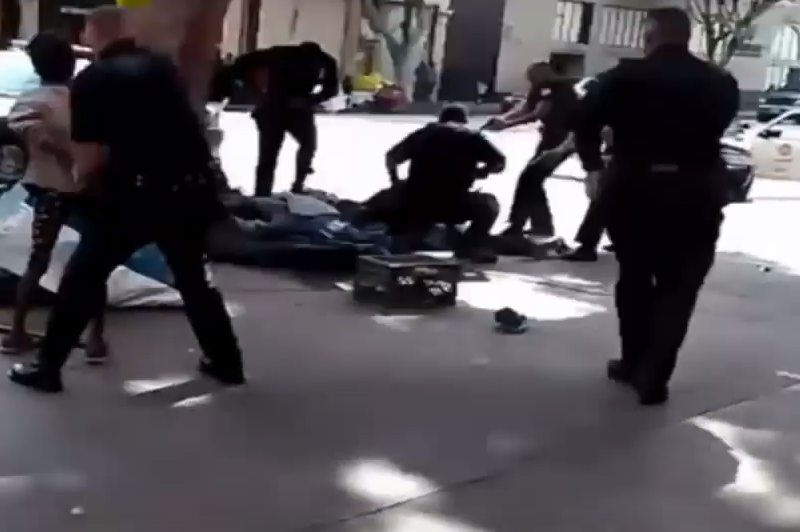 Photo: Bystander video of LAPD police shooting, March 1, 2015; YouTube.
Prosecutors have determined that Los Angeles police officers were justified in shooting and killing a homeless man on skid row last year—during a videotaped incident that gathered international attention—according to the districty attorney's office.
The district attorney's office released a 22-page finding and their determination that LAPD Sergeant Chad Syed and Officers Francisco Martinez and Daniel Torres reasonably believed Charly Leundeu Keunang posed a lethal threat during the March 1, 2015 incident and police shooting.
Police Body Camera Video Provides Key Details
The police body camera worn by Sergeant Syed shows how Keunang's "left hand is over the top of the butt of [Officer] Volasgis' gun," and that for a second time, "the fingers of Keunang's left hand appear around the butt of Volasgis' firearm [8].
[sc name="Article Mobile Ad" ]
The descriptions in the district attorney's report suggest that the police body camera video shows details that appear to contrast with bystander video and the conclusions drawn from it.
However, the Los Angeles Times news report states, "Reports from the LAPD, inspector general and now prosecutors say the video shows Keunang grabbing the officer's holstered gun"
The LA Times report continues, stating that, "…reporters who have privately viewed the recordings have questioned the account. A Times story said the video did not capture key parts of the incident, including whether Keunang grabbed the gun. A story in GQ magazine said Keunang never had the weapon."
Craig Lally, president of the LAPD officer's union, said that "while the death of Mr. Keunang is tragic, officers must act when they are being attacked to protect themselves and the public."
Lally also stated that prosecutors permitted "facts to prevail over politics."