Killer Of Toronto Police Officer Released From Psychiatric Hospital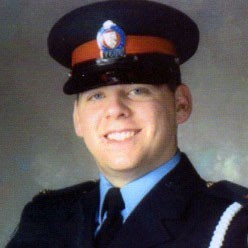 [vc_row][vc_column][vc_column_text]
The man found not criminally responsible for killing a Toronto police officer in 2011 was released from a psychiatric hospital in mid-April and has been living in supportive housing in Durham Region with daily visits from mental-health workers.
Richard Kachkar was in the midst of a psychotic episode when he stole a snowplow and ran over Sgt. Ryan Russell as the officer attempted to stop him.
A jury found him not criminally responsible in March 2013, and he was sent to the Ontario Shores Centre for Mental Health Sciences in Whitby.
In June 2016, the Ontario Review Board approved the hospital to gradually transition Kachkar into living in the community with supervision and support.
While Kachkar "continues to represent a significant threat to the safety of the public," a risk assessment showed "he represents a low risk to act out in a violent fashion," the board's decision stated.
Sergeant Ryan Russell was 35 years old, married with a two year old son.  He had been a police officer for 11 years.
[/vc_column_text][/vc_column][/vc_row][vc_row][vc_column][vc_video link="https://youtu.be/yIv5tJ-B8Zw"][/vc_column][/vc_row]