Joel Campora Award Winner Announced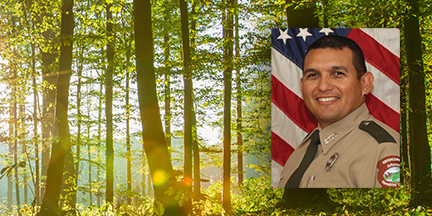 When Arkansas Game & Fish Officer Joel Campora died in the line of duty on May 31, 2013, while attempting to rescue two women trapped in their homes from flood water, Arkansas Game and Fish Deputy Director Jeff Crow stated that "Joel was not ordinary. Joel was uncommon. He was an uncommon man. He understood the sense of sacrifice…"
Jeff Crow is now the Director and it was because of that sacrifice that he and the law enforcement community wanted to honor what Joel stood for. The Joel Campora Achievement Award was just one of the ways the agency and community did to honor Joel's memory.
Given each year to an academy graduate, the award recognizes outstanding academy achievement.  Bernie Soliz recently received the award after his peers voted for him.
The fallen Campora and Soliz have much in common.  Both began law enforcement in Polk County (AR) and later transferred to Montgomery County where Soliz ended up renting the same home as the Camporas.  They served as youth directors at Salem Baptist Church in Nunley.
Soliz had never met Campora's family until the summer after his passing when Salem Baptist dedicated its VBS to Campora.  Soliz met Joel's family and that meeting wasn't far from his mind when his final assignment in the Arkansas Game and Fish Academy was to write a report on Joel Campora.
Joel's wife, Rebecca, commended Soliz for the leadership he has shown,
"Bernie has the same work ethic and integrity of Joel. He is going to be a great officer. When I heard he had got the award it made me feel like Joel was right there with him in academy encouraging him along the way. Maybe Bernie is going to continue the work for Joel."
You can visit the Arkansas Game and Fish Officer Joel Campora Memorial Page here.