Jersey City Mayor Wants Cops Fired After They Saved Burning Man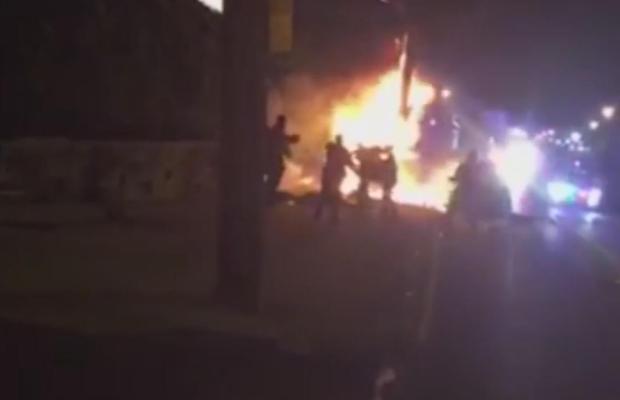 A New Jersey mayor and his city's police union are clashing publically over whether a newly released video shows quick-thinking police officers or an example of police brutality.
The dramatic video shows Jersey City police officers approaching a crash victim with their guns drawn. The victim, identified as Miguel Feliz, rolled from the crash with at least one item of clothes on fire.
Questions were raised about what could be seen once officers reached Feliz. There are allegations that the police officers were kicking Feliz, and then dragging him into the streets.
The Jersey City Police Officers Benevolent Association, denied those allegations, saying the officers were trying to put out the flames and get the man to safety.
"Taking swift action isn't always elegant, but this video clearly shows that the officers acted quickly to extinguish the flames, and pull this man out of harm's way," Carmine Disbrow, the union president, said in a statement Wednesday.
Stephen Fulop, the city's mayor, however, has called for the terminiation of any officer who appeared in a video.
A spokeswoman from his office told The Wall Street Journal that once the officers in the video are identified, his office will seek their termination and pursue possible criminal charges.
Police were pursuing Leo C. Pinkston in a high-speed chase, Hudson County prosecutors said. Pinkston crashed into cars on both sides of the road, which prompted officers to fire multiple shots at his car.
Officials said Pinkston crashed into a utility pole, causing Feliz's car to erupt into flames. Pinkston was later arrested and charged with aggravated assault and eluding police officers, prosecutors said. It was not immediately clear why police started to pursue him.
Feliz was recovering in Saint Barnabas Medical Center in Livingston with severe burns. A hospital spokeswoman said he was in critical condition.
Disbrow said the mayor's thoughts are with politics, not policing. He said the department will stay focused on keeping the people in the city safe.