Photo: Jeremy Meeks; source Instagram
Jeremy Meeks—perhaps more known by his "hot felon" Internet meme—posed for a mugshot that soon went viral in June of 2014. Oddly enough, it seems his arrest—and his mugshot—may have helped turned his life around.
[sc name="Article Mobile Ad" ]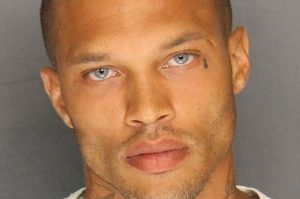 According to a New York Post news report, "the world's hottest felon is now living the high life" (perhaps not that "high" life).
Now an ex-con who was jailed in 2014 for weapons offenses, Meeks' Instagram account portrays a lifestyle far removed from gangs and guns.
Meeks recently posted a photo of himself in front of his mansion—exiting his Maserati. His transformation can easily be explained alliteratively: Meeks went from mugshot, to a modeling, to a Maserati, to a mansion.
Aside from the material things, Meeks seems focused on more important things, such as his modeling career—and his family.
If Meeks hasn't disproved the old cliché that crime doesn't pay, at least he is proving that not every mugshot tells the story of a life of crime…
Law Officer is the only major law enforcement publication and website owned and operated by law enforcement. This unique facet makes Law Officer much more than just a publishing company but is a true advocate for the profession.