Former L.A. County Sheriff Gets 3 Years In Prison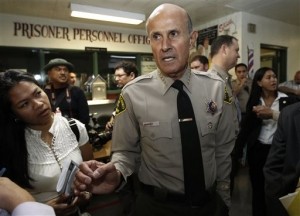 Former Los Angeles County Sheriff Lee Baca, who was found guilty of spearheading schemes to obstruct a federal investigation into corruption and civil rights abuses at county jail facilities last week, received a sentence Monday of 36 months in federal prison.
A federal jury convicted the 74-year-old Baca on three felony counts: conspiracy to obstruct justice, obstruction of justice and making false statement to federal investigators. He was sentenced Monday morning by U.S. District Judge Percy Anderson, who ordered he begin his sentence July 25 and pay a fine of $7,500.
According to the Justice Department, the obstruction from Baca's side began in August 2011 after Los Angeles Sheriff's Department (LASD) officials found a cell phone in an inmate's cell, tied the phone to the FBI's Civil Rights Squad and discovered that the inmate was an FBI informant.