Former Chicago Top Cop: Justice Department Is Wrong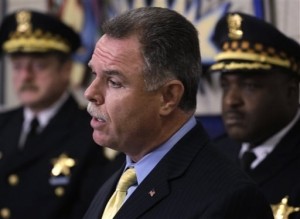 Former Chicago Police Supt. Garry McCarthy blasted the Justice Department saying the feds have wrongly focused on whether officers have been stopping African-Americans disproportionately.
McCarthy also blamed City Hall for "flipping over the table" on Chicago cops in 2016.
[sc name="Article Mobile Ad" ]
On Friday, the Justice Department released findings accusing the Chicago Police Department of a pattern and practice of civil rights violations including a charge that they use force against African Americans more.
McCarthy said that DOJ officials have never spoken to him about their Chicago probe, even though he was responsible for the department's policies and practices for more than four years.
"My narrative does not fit the narrative that they are pushing," said McCarthy, who was fired in late 2015 by Mayor Rahm Emanuel following the release of the McDonald video.
"They've already adopted the battle cry over and over again that we are disproportionately stopping African-Americans, and their conclusion is that we are biased and racially profiling," he said of the DOJ.
"They're wrong."
McCarthy pointed to statistics on officers' street stops in 2013 and 2014 to highlight his position that policing during his tenure was based on crime data — and didn't violate citizens' rights.
The statistics, which he had previously presented during a speech to the City Club of Chicago in September, show the percentage of black and white people stopped over that period were almost identical to the percentage of black and white people suspected of crimes.
That was true, he said, both in high-crime districts like Englewood and lower-crime districts like Town Hall.
"We profiled crime, not people. We went to the places, locations and times when crime was most likely to happen," McCarthy said.
"The standards that are being used by the Department of Justice are in conflict with what the Supreme Court has said, because 'articulable, reasonable suspicion' is not informed by demographic population data," he said.
"Nobody is talking about what percentage of the African-American community is victimized by crime," McCarthy said. "What we are talking about is victimization by police. The priorities are wrong."
Although McCarthy didn't mention Mayor Emanuel, he said he ultimately blamed a lack of political leadership on Chicago's bloody 2016.