Photo Courtesy: YouTube
---
When retired Major League Pitcher and Cy Young Award Winner Roy Halladay was killed in a fatal plane crash on Tuesday, the local Sheriff's office was impacted greatly by the death.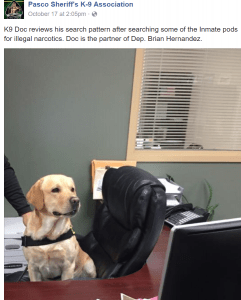 Pasco County Sheriff Chris Nocco detailed Halladay's relationship with local officers during the press conference announcing Halladay's death, recounting the times he helped the station.
One of the most notable instances included Halladay donating the funds for a department canine.
The officers repaid the future Hall of Famer in a small, but lasting, way — they named the dog Doc. K9 Doc, to be exact. The Pasco County Sheriff's office has a Facebook page dedicated to their K9 unit and it's brimming with pictures of Doc The Dog.
"Roy meant a lot to the Sheriff's office," Nocco said at his press conference. "He was there whenever we needed him. He was one of the most humble human beings you'll ever meet. K-9 Doc is out there working and saving lives."
Law Officer is the only major law enforcement publication and website owned and operated by law enforcement. This unique facet makes Law Officer much more than just a publishing company but is a true advocate for the profession.