Colin Kaepernick Part Of Nike 'Just Do It' Protest Ad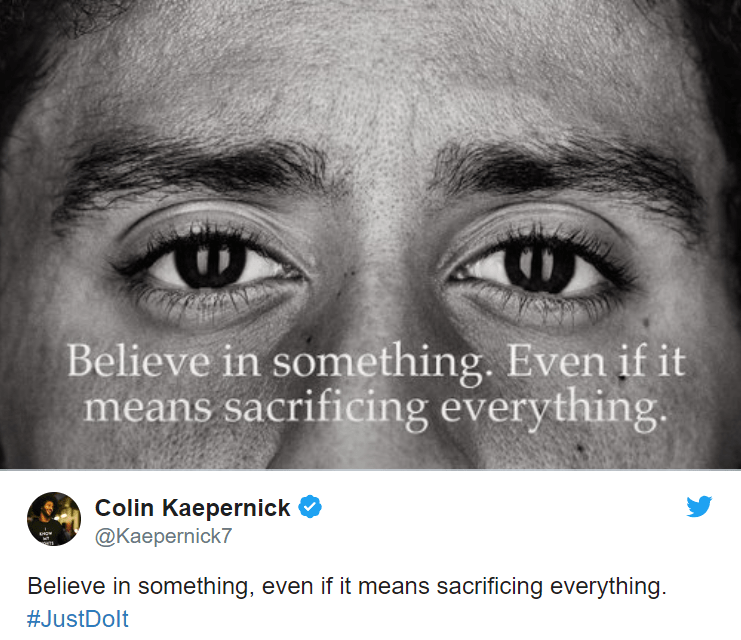 In an advertisement just rolled out by Nike, former NFL quarterback Colin Kaepernick is looking at the camera, and printed over the image is: "Believe in something, even if it means sacrificing everything. #JustDoIt."
A Nike athlete since 2011, he has not played on a team since 2016. Kaepernick opted out of his contract with San Francisco, turned down other offers to play and recently filed a lawsuit against the NFL.
Kaepernick created a national firestorm when he began kneeling during the National Anthem in an effort to protest police brutality of African-Americans.
Kaepernick previously won the 2017 Eason Monroe Courageous Advocacy Award and the 2017 Muhammad Ali Legacy Award.
Travis Yates, the Founder of the Courageous Leadership Institute calls Kaepernick anything but courageous.
"I think there is a line between courageous and just not smart," Yates told us.
Indeed, Kaepernick continues to make money and win awards while being portrayed as a martyr but Yates points out that Kaepernick appears to purposely not want to play football anymore and when you talk to those in the know, his skills had pretty much diminished when he decided to walk away from his team in 2016.
"Other than kneeling, which ironically he can't do anymore, what has he actually done about it," Yates said.
Yates continued, "The truth is, it is hard to do something about something that has no basis in fact.  The ultimate irony is that Colin Kaepernick is being featured in a "Just Do It" ad but he is doing nothing in regards to the issue and he didn't give up his career in some courageous act…..he voluntary opted out of his contract."
NFL Legend Jim Brown may have said it best when he said,  "I'm going to give you the real deal: I'm an American. I don't desecrate my flag and my national anthem. I'm not gonna do anything against the flag and national anthem. I'm going to work within those situations. But this is my country, and I'll work out the problems, but I'll do it in an intelligent manner."