Attorney Says Aaron Hernandez Could Have Been Murdered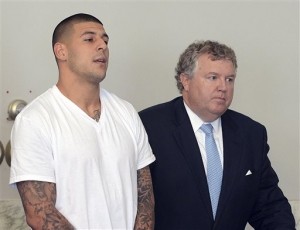 According to PINAC News, Aaron Hernandez's attorney is questioning whether or not the former NFL star committed suicide or was murdered after prison officials said he was found hanging in his cell earlier this morning.
Attorney Jose Baez said Hernandez not only showed no signs of being suicidal, but was optimistic about winning an upcoming appeal for the 2015 murder conviction of Odin Lloyd in Bristol County, Massachusetts
Baez also defended Hernandez on double murder charges last week for the 2012 killings of Danel de Abreu and Safiro Furtado outside of a Boston nightclub, which largely relied on testimony from Alexander Bradley, a witness who received immunity with a seedy past.
Hernandez was found not guilty in that trial, but was forced to return to his cell at Shirley Baranowski Correctional Center in Shirley, Massachusetts where he was serving a life sentence for the previous conviction, which he was appealing.
But Baez says Hernandez was looking forward to his day in court for another chance to prove his innocence.
Baez isn't the only one who believes something went afoul.
Brian Murphy, Hernandez's former agent Tweeted he didn't believe his former client killed himself.
"Chico was no saint, but my family and I love him, and he would never take his own life," Murphy said.
"Absolutely no chance he took his own life."