Agency Responds After Viral Video Shows Deputy Running Away From Suspect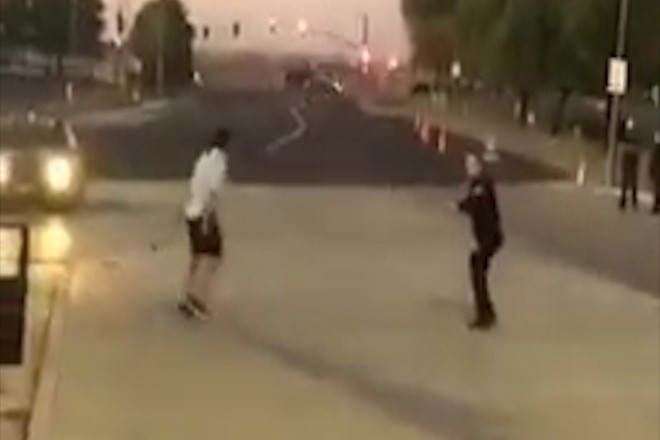 A viral video showing an encounter between a law enforcement officer and a suspect stormed across social media late Thursday, drawing millions of page views.
It shows a San Joaquin County sheriff's deputy using a Taserlike device on the suspect, who responds by chasing the officer.
The video, shot sometime Wednesday evening and tagged as being from Tracy, shows an unidentified man wearing a white shirt and black shorts walking on a street and disobeying orders reportedly issued by a San Joaquin County sheriff's deputy. The deputy appears to have his Taserlike device drawn and pointed at the man.
The man attempts to get inside a dark-colored Toyota vehicle and shoves the deputy away. The deputy loses his footing, then fires the device at the man, appearing to hit the suspect in his left shoulder.
The man screams, pulls the device's wire from his body and then charges at the deputy, who drops the device and runs into nearby bushes. The man runs back to the street and gets inside the driver's side of a patrol car.
Late Thursday, Detective Dave Konecny, a spokesman for the Sheriff's Office, issued a statement:
"Upon seeing the video, we are grateful that no one suffered significant injuries in this incident. Our deputies must routinely make split-second decisions on the use of force. In this instance, the deputy made an assessment that it was not required. As in other cases, on-scene video does not necessarily reflect the true story, however we will look into the matter further. Since the case has been forwarded to the District Attorney's Office for review and charges, we must refrain from additional comments on this case as the final outcome is now in the hands of the San Joaquin County District Attorney's Office."