"In God We Trust" New Police Car Motto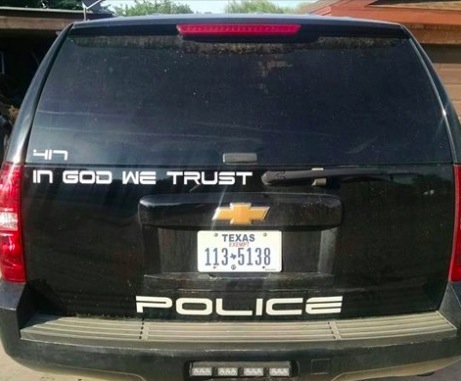 As the New Year gets into full swing, another law enforcement agency has added "In God We Trust" decals to their patrol vehicles. This time it is the Sheriff's Office of LeFlore County in Oklahoma that made the decision.
According to LeFlore County Sheriff Rob Seale, after a lengthy and arduous approval process that took months to complete, the approval was passed down that allowed the decals to be added to patrol vehicles.
This is not the first Sheriff's office to seek and be granted approval to add similar decals to their patrol cars. In November of last year, Oklahoma had a similar situation when decals were added to Creek County vehicles. According to the Creek County Sheriff John Davis, the "In God We Trust" motto is not simply a religious statement, but a patriotic one, because it is the national motto.
It is not just Oklahoma law enforcement agencies, either. In Texas the Childress Police Department made the decision to add "In God We Trust" to patrol cars. The Brewster County Sheriff's office in Texas recently made a similar decision as well, adding decals in the shape of an outlined cross to the back of their deputy patrol vehicles. The decision in both of these Texas situations was supported by Governor Abbott.
States in addition to Oklahoma and Texas where local law enforcement agencies have made similar choices include Louisiana, Florida, and Missouri, and the trend does not seem like it will stop there.
Despite so many counties making the decision to add the motto to their vehicles, it has not gone without opposition. A very outspoken group known as the Freedom From Religion Foundation has called to have law enforcement agencies to remove the decals and mottos from the back of patrol vehicles.
In the case of Childress, Adrian Garcia of the Childress Police Department addressed the FFRF by denying the FFRF's request to have the decals removed from vehicles, and telling the organization to "fly a kite".
Even with FFRF presenting opposition, in LeFlore County, Sheriff Seale has stated that the general response from the community has been positive. According to the Sheriff, many citizens stating they are proud of the decision and are happy that the decals were added to the patrol cars.