ACLU Challenges Captain After Viral Video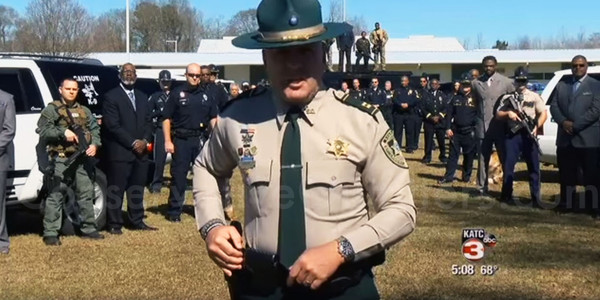 A video released earlier this week by Captain Clay Higgins of the St. Landry Parish Sheriff's Office has gone viral and has the ACLU suggesting the popular face of Crime Stoppers has gone too far.
In the video, Higgins, known as "the Cajun John Wayne," directs a warning at the Gremlin Gang, a group of individuals that are wanted for criminal activity in Vermilion Parish. He explains that 10 suspected members have been arrested, but seven remain at large.
In the video, Higgins warns the wanted gang members that they will be brought to justice.
"If you raise your weapon to a man like me, we'll return fire with superior fire. … I'll meet you on solid ground anytime, anywhere, light or heavy, makes no difference to me. You won't walk away," he said.
And he urged the community not to live in fear of the gang and to come together to "take back" the streets.
The American Civil Liberties Union of Louisiana released a statement regarding the segment:
"While we support legal law enforcement and certainly are as concerned as anyone about violence in our neighborhoods, law enforcement officers must be aware of the implications of their public statements.  Assuming that what is reported is true, Mr. Higgins has suggested that those he seeks to arrest are subject to execution before trial.  The statement that there is a "bounty on their heads" harks back to lawlessness, when people were killed first and questions asked later.  That is not the way we operate in a free society, and regardless of Mr. Higgins' opinions about the guilt of those he seeks to arrest, it is a felony to execute someone simply because you don't like them."
Higgins said Wednesday, his message is much larger than the fugitive gang members.
"We're sending a message to Acadiana and the world, that a unified community need not cower from gang violence…..this is a unified statement of brotherhood and solidarity to tell the world we're not going to tolerate that kind of activity in our community. This is about right versus wrong."
The ACLU took specific issue with Captain Higgins calling the suspect's "heathens."
On Friday, Captain Higgins did a phone interview with "Walton & Johnson", a national radio show, where he challenged the ACLU to a debate following their criticism.
"The ACLU has a point that they feel is righteous, and of course they're wrong, but that's subject for debate.  I invite them to that debate. I'd like to fill a 10,000 man hall in Baton Rouge.  Whoever authored that letter, whatever team authored that letter, I'm sure they'd be happy to debate me in a public forum. We can sell tickets. 10,000 of them at $10.00 a piece and raise $100,000 for charity. I can certainly generate 9,998 of my followers, and they can bring both of theirs, and we'll have a healthy debate and let the American people decide."