4E Fitness' DVD workouts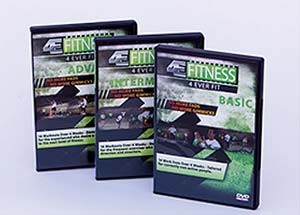 According to ODMP.org, six officers died from on duty heart attacks in 2012. At the time this was written, we've lost 13 officers to the same affliction in 2013. Perhaps the most disturbing revelation in this number is the fact that four of these officers were under the age of 33. We, as a profession, must take note of this alarming increase of premature death and fight it with the same tenacity as any other threat to our safety.
2013 was the sixth year I've had the honor of presenting at the International Law Enforcement Educator and Trainers Association's (ILLETA) weeklong conference. Shortly after arriving at the hotel, I was heading down to the main floor. The elevator door opened and there stood a guy that was built like a Greek statute. I asked about his background. He replied that he was recently retired from Tulsa PD and was starting his own fitness company to help officers improve not only their physical conditioning but their entire lifestyle as well. We parted ways.
The man I speak of is retired Sgt. Mark Sherwood, and his recently formed company is called 4E Fitness. Luckily, I was able to reconnect with him at the conference. As we discussed physical fitness training, Sherwood's expertise became apparent. Perhaps the most important point he made was that as you embark on the road to physical fitness, the only person that you're competing with is you. While you may never be as fast or as strong as someone who's genetically superior to you, you can always enhance your own physical fitness level. As long as you're seeing improvements within yourself, you're moving in the right direction.
Exercise! Oh, man. I don't have time to exercise! Actually, you don't have time to not exercise. Think about this for a minute. Most of us old dogs spend more than a half-hour a day (easily) telling war stories. Use that time to exercise daily, which can have a significant impact on your strength, health, endurance and longevity. Exercise, just like eating well, must be a priority in your life.
But I don't have time to drive to the gym. Great! Because you don't have to, as Sherwood makes clear: You can exercise anywhere. Any other excuses?
All exercise carries some risk of injury (so does getting out of bed). Sherwood is fully aware of this. With cops in mind, he has developed the 4E Fitness program. Professionally produced and edited, it's a six DVD set of home-based exercises that can help get you into shape—while minimizing the risk of injury. Now you have no excuses!
The basic set (each level has two DVDs) is structured for those who haven't exercised before or in years. It gradually builds in intensity, using 14 workouts over a four-week period. It also includes a segment of "Anywhere Activities." These are exercises that can be performed just about anywhere, even sitting at a desk.
Each level of the program builds seamlessly and synergistically upon what you learned in the previous. The intermediate set also introduces you to exercises that will improve not only your strength, but flexibility as well. The advanced set will push your physical abilities to levels you may have not seen for years—if ever.
This isn't some gimmick being sold as gospel. The series is designed to gradually improve fitness, not make you so sore that you can't move the next day. Like anything else, the harder you work, the greater your results will be. But we all need to start somewhere, and this is a great place to start.
4E Fitness DVD's
Pros
Cons
CONTACT
4E Fitness
www.4EverFitLife.com