The Warrior Named Officer Tim Jones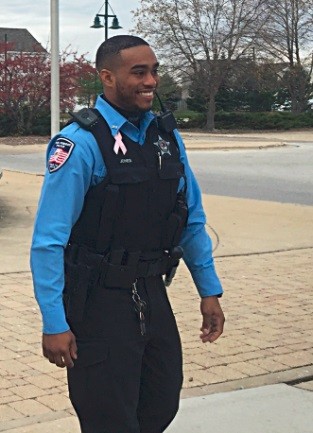 The story of Park Forrest (IL) Police Officer Tim Jones is guaranteed proof that real life warriors put their badge on each and every day to protect the citizens in their community.
Listed as a noun in the dictionary with one meaning being "a person engaged or experienced in warfare; soldier," is likely why some will have you believe that law enforcement should do away with the term "warrior" but after you hear about the Tim Jones story, I hope you would agree on what a tremendous mistake that would be.
Jones was 24 years old, with less than a year on the department when he responded to a burglary at a vacant home on March 19, 2016.  The normally quiet neighborhood turned into a hail of gunfire when Tim was shot three times in the jaw and neck. Other officers killed the coward suspect and in the immediate aftermath, Jones' survival was in question.
That is when the world got to know what a warrior does.
A year ago, Tim could only blink to communicate and today, after months of rigorous rehabilitation, he can talk.
That important noun, "warrior" has a second meaning in the dictionary.  A warrior is listed as "
a
person
who
shows
or
has
shown
great
vigor,
 and 
courage…"
I can't think of a better term for Officer Tim Jones.
His father, William Jones, is the police chief of Country Club Hills has been at his son's side since the day of the shooting.
Chief Jones said last week that his son will be back to work one day with his fellow officers and I wholeheartedly believe that statement.
I have already told my kids that the modern day superheroes in the movies have nothing on what a true warrior looks like and Officer Tim Jones is one of the finest examples I know.
Thank you Tim for your warrior fight.  My prayers and thoughts are with you, your family and your agency as you work each and every day to once again wear the badge.