DC Police Chief Wasn't So Popular Within Her Own Department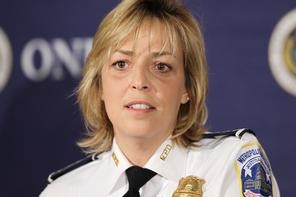 Outgoing Washington, D.C. Police Chief Cathy Lanier lacked support within her own ranks, despite being a popular figurehead of District leadership.
The leader of the Metropolitan Police Department (MPD) announced Tuesday she will retire September 17 after a decade in the post, taking city residents and the mayor by surprise. District officials praised Lanier for her record on crime, with Mayor Muriel Bowser lauding the fact that violent crime dropped 23 percent after Lanier became police chief in 2007. Despite the glowing praise, representatives of the D.C. Police Union were jubilant at Lanier's departure, reports WAMU.
The union held a vote of no confidence in Lanier last summer that found 97.5 percent of officers had little faith in her leadership. Roughly 1,150 of the 3,600 officers on the force at the time participated in the vote.
"Today is the greatest day in my career and so many other of the 3,500 cops in this city," Gregg Pemberton, treasurer of the D.C. Police Union, said on Twitter. "My phone is blowing up with members fanatically excited!! People are thrilled that this nightmare is over."