DC Police Chief Announces Retirement, Accepts Job With NFL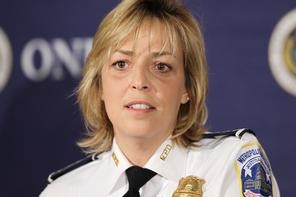 D.C. Police Chief Cathy Lanier has announced that she will retire from the department after 26 years of service. But her work with law enforcement is not over; she is joining the NFL.
Lanier's last day will be Sept. 17, Mayor Muriel Bowser said during a news conference Tuesday afternoon. Bowser says she will name an interim police chief in the coming days.
Lanier has accepted a position as Senior Vice President of Security for the NFL. She will begin work at the league's New York office next month, NFL Commissioner Roger Goodell announced Tuesday.
"It is an honor for me to move to the next stage of my career knowing that I can use the experience and education that I have gained over the past 26 years to protect and serve all of the NFL, its fans, players and employees," Lanier said in a letter to the department's 3,700 officers.
In her new job, Lanier will oversee the security of all 32 NFL teams and their venues, working with federal, state and local law enforcement and handling security for the Super Bowl.