Vested for Life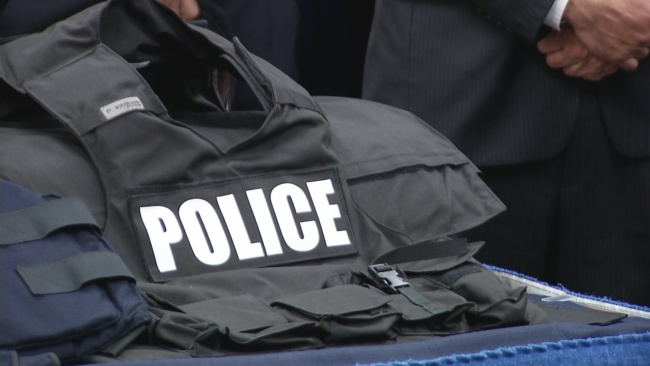 When Muscle Shoals (Ala.) Police Lieutenant Clint Reck was asked to send 24 ballistic vests to the Philippine National Police Department, which had none, he never dreamed what was about to happen.
Just days after the vests were distributed, Philippine National Police Inspector Ricardo Dalmacia attempted to make a traffic stop. As the vehicle came to a dead end, the suspect exited the vehicle and shot Inspector Dalmacia in the chest. The donated vest stopped the bullet and saved Dalmacia's life.
On that day, The Armor of God Project was launched, and Lt. Reck, along with his good friend Ray Mahan, began working to ensure that everyone who protects their community with a badge has a ballistic vest.
A nonprofit organization, Ten-Four Ministries, quickly joined the cause, helping spread this important message across the world. Today the project team consists of experts from the vest industry, shipping industry and various other law enforcement professionals that are all working hard on a voluntary basis to ensure that no one has to work the streets without the basic necessity of a ballistic vest.
The concept is simple. Most agencies replace vests every five years when the manufacturer warranty expires. Often, the vests are still in good condition. The agency then has a problem. What do they do with the used vests? Some let the officer keep them but many do not. The project team has found vests stacked in closets, being burned, thrown in landfills and even used to make tires.
Not a Foreign Problem
Although many in the U.S. and around the world are fortunate to have been provided a ballistic vest, many are not, and this project gives the fortunate an opportunity to help those in need.
Used vests are sent in by individual officers or entire departments, inspected and, if deemed safe, sent to sworn officers who need them. Who needs vests? Although you may assume that everyone in America is given this basic piece of equipment, you would be sadly mistaken.
On April 16, 2009, Officer Ryan Austin of Northville, N.Y., was the first American officer to receive a vest from the Armor of God Project, and since that day, vests have been sent out free of charge on a weekly basis to officers across the U.S.
Many agencies have come to the assistance of those in need including the West Virginia State Police, Rochester (N.Y.) Police Department, Tuscaloosa (Ala.) Police Department, Madison (AL) Police Department, Henry County (Ga.) Police Department and the Creve Couer (Mo.) Police Department, just to name a few.
Law enforcement is a profession of passion. When I discovered that American officers weren't equipped with ballistic vests, I got angry. How could a country as wealthy as the U.S. permit this to occur? The Armor of God Project is set to change that, and in a way that all of us can help. With your help we can place a ballistic vest on the back of every officer in America.
If your agency has used vests, we can use them, and if you need a vest, we have one for you. To find out more details about this important project you can visit the Web site at www.vestforlife.com.