Tulsa Police Officer: 'I Work For You. I Will Protect You'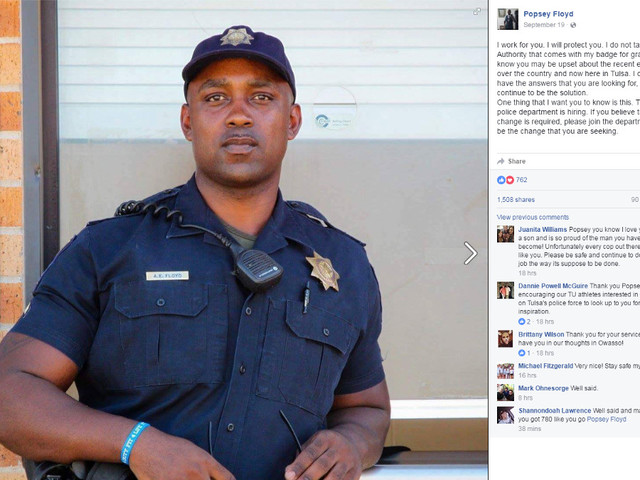 [vc_row][vc_column][vc_column_text]A Tulsa police officer has taken to Facebook to speak out about finding solutions and change in the wake of the fatal shooting of Terence Crutcher.
Popsey Floyd posted this message on his Facebook page on Monday.
"I work for you. I will protect you. I do not take the Authority that comes with my badge for granted. I know you may be upset about the recent events all over the country and now here in Tulsa. I don't have the answers that you are looking for, but I will continue to be the solution. One thing that I want you to know is this. The Tulsa police department is hiring. If you believe that change is required, please join the department and be the change that you are seeking."
Becoming a Tulsa police officer was a life-long dream for Floyd.
He grew up thinking you had to be scared of the police based on the stories he had heard but he decided to be part of the solution and make a positive difference in the lives of others.
He also encouraged those that wanted to solve issues to join the department like he did.
[/vc_column_text][/vc_column][/vc_row][vc_row][vc_column][vc_raw_html]JTNDaWZyYW1lJTIwd2lkdGglM0QlMjI1NjAlMjIlMjBoZWlnaHQlM0QlMjIzMTUlMjIlMjBzcmMlM0QlMjJodHRwcyUzQSUyRiUyRnd3dy55b3V0dWJlLmNvbSUyRmVtYmVkJTJGM2tMZEJiUFhZVmMlMjIlMjBmcmFtZWJvcmRlciUzRCUyMjAlMjIlMjBhbGxvd2Z1bGxzY3JlZW4lM0UlM0MlMkZpZnJhbWUlM0U=[/vc_raw_html][/vc_column][/vc_row]