Lena Draper, 10, decided she needed some help with her fifth-grade math homework, so she took to the Marion (OH) Police Department's Facebook page on Friday and left a message with a few problems that she felt needed answering.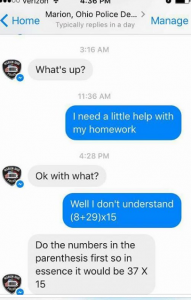 The department came to her rescue, messaging the girl back after she posted the math problem (8 + 29) x 15. Someone at the department wrote back, "Do the numbers in the parenthesis first so in essence it would be 37 x 15."
Lena followed up with another problem, "(90 + 27) + (29 + 15) x 2"
To which someone at the department replied, "Take the answer from the first parenthesis plus the answer from the second parenthesis and multiply that answer by two."
In response to the incident, the Marion PD posted on its Facebook page that it is a full-service police department that makes every emergency a cause to be answered.
Law Officer is the only major law enforcement publication and website owned and operated by law enforcement. This unique facet makes Law Officer much more than just a publishing company but is a true advocate for the profession.