ESPN Columnist Slams Cops Singing National Anthem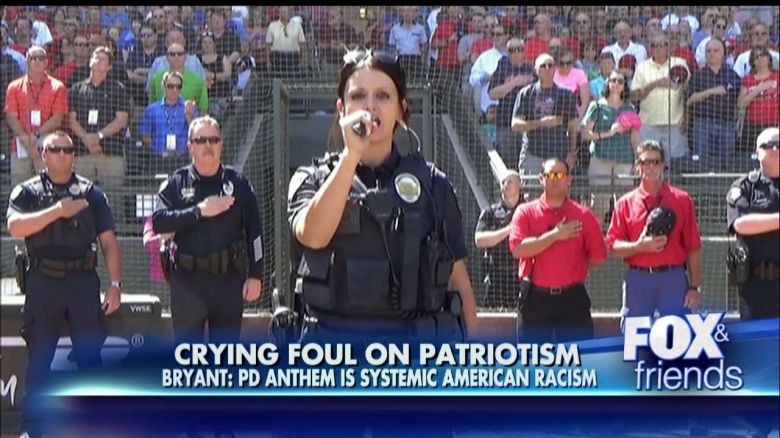 Fox News reports that ESPN Magazine's Howard Bryant wrote in a new column that cops singing "The Star-Spangled Banner" is "staged patriotism," arguing that it signals an "authoritarian shift at the ballpark."
"Why don't more athletes speak out on behalf of their communities?" Bryant wrote. "Perhaps more of them would if there wasn't a chilling force looming over them."
The assertion by Bryant is ridiculous and he is part of the problem.  Personalities such as Bryant have a duty to be informed and to say things that are intelligent instead of furthering an agenda that just happens to not be true.
The truth is there were 40 shootings in Chicago this weekend alone.  Who does Mr. Bryant think responded and investigated those shootings? Who does he think stands in the gap between these street criminals and good, hard working citizens?
Well it is not him but he does have a huge platform where he could help and he chooses to make some absurd claims with law enforcement being the problem.
Of course Bryant isn't new to making absurd claims against law enforcement.  He maintained that his 2011 arrest was racially motivated.
Bryant was arrested on several charges, including assaulting his wife, committing battery on a police officer and resisting arrest outside a western Massachusetts pizzeria.  Multiple witnesses called to say Bryant put his hands around a woman's neck. When authorities arrived, he refused an officer's order and struck one of them in the chest.
Just two weeks after the incident, Bryant began writing again for ESPN.  He later agreed to serve six months of pretrial probation in exchange for a clean record afterwards.
ESPN should be ashamed of themselves.