Capt. Clay Higgins, the outspoken former sheriff's deputy from St. Landry Parish who made a name for himself as the "Cajun John Wayne," is running for Congress.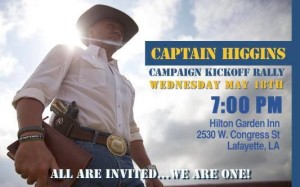 Higgins was best known for producing Crime Stoppers videos for KATC-TV3 that went so viral that Jimmy Fallon of The Tonight Show said Higgins would make a good president.
According to his Facebook page, Higgins will announce on Wednesday evening that he's running for office. He told KLAF in Lafayette that he will be running for either the 3rdDistrict Congressional seat that covers Lafayette and Lake Charles – or the U.S. Senate seat that's open because U.S. Sen. David Vitter said he's not seeking re-election.