Bratton: Amateur Photographers Are 'Epidemic'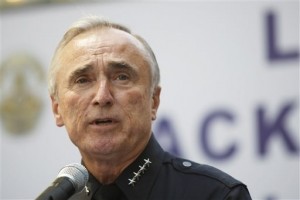 Police Commissioner Bill Bratton says that it is often the "epidemic" of amateur photographers armed with cell phones — and not the aggressive actions of city cops — that escalates clashes between police and the public.
Bratton made the comments when he was asked about the investigation into a video of a Harlem cop pointing a gun at a group of onlookers when he went on a rant about "mobs" armed with cell phones.
"This has become very serious," he added. "I would almost describe it as an epidemic in this country."
The Harlem cop captured on video pointing his gun at onlookers May 19 has been identified as Officer Risel Martinez. A second video shows he also punched one of the people recording him. Martinez, 26, has been stripped of his gun and badge, as the Internal Affairs Bureau investigates the clash inside an apartment building on W. 134th St. last Thursday. The cop was trying to arrest a man who interfered with a traffic stop.
Bratton said he wasn't defending the officer's actions, but said  "in so many of those videos, people are resisting violently and being encouraged by the crowd."