Austin Police Chief Reprimanded, Loses 5 Days Pay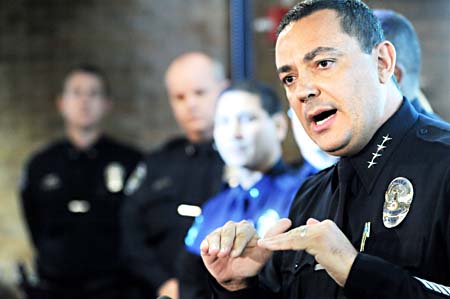 Austin Police Chief Art Acevedo's has been stripped of five days' pay after the city manager determined he failed to follow a direct order to stop talking publicly about an officer-involved shooting case during the internal affairs investigation.
The actions follow the chief's response to the shooting death of David Joseph. His case drew attention because he was naked and in the street when he was shot to death by Officer Geoffrey Freeman. Officer Freeman said he shot Joseph because he charged at him.
Chief Acevedo held a news conference in the days following the shooting with community groups vowing a speedy investigation into the death of Joseph. Soon after that news conference, the chief also visited the APD training academy to discuss the case and City Manager Ott said he told the chief in early M arch to not talk about the case until after the investigation concluded.
The chief was warned in a memo he could be fired if another incident takes place.
Acevedo makes approximately $207,000 a year, so his five days without pay will cost him around $4,000.
The Combined Law Enforcement Associations of Texas (CLEAT) issued the following statement Tuesday:
CLEAT Executive Director Charley Wilkison made the following statement:
"Rank-and-file police officers in Austin have been sounding the alarm for months about Chief Acevedo's habit of bad-mouthing the cops he's supposed to be leading," Wilkison continued. "Finally, his supervisor stepped in with decisive action to bring the chief back into line. Surely, the city manager realizes the harm the chief's comments do when an on-duty officer involved in controversy is hung out to dry by the chief of police."