6 Killed In First 18 Hours Of Chicago Weekend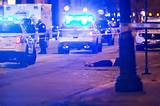 By Saturday evening, at least 18 people have been shot so far this weekend in Chicago and six of those victims are dead.
Among the dead is a 24 year old man that was at a party and a  16-year-old boy was shot in the head while he was in a vehicle.
Chicago has some of the strictest gun control in the country and so far in 2016 the homicide number is at 296, a 72% increase.
Shootings have increased 88%.
In December, Chicago Mayor Rahm Emanuel pushed Chicago Police Superintendent Garry McCarthy out.