Man Charged With Desecrating American Flag After Facebook Posts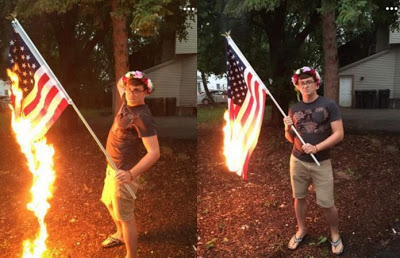 An Illinois man was arrested after he set the American flag on fire and posted photos of the act on Facebook. But the incident has sparked a debate on social media about whether the act should be considered an expression of free speech.
According to The News-Gazette, Bryton Mellott, 22, posted several photos on Facebook on July 3 showing him burning the American flag. On the photo post, he included a statement about why he is "not proud" to be an American.
"In this moment, being proud of my country is to ignore the atrocities committed against people of color, people living in poverty, people who identify as women, and against my own queer community on a daily," Mellott wrote.
Before the photos were deleted, they were shared thousands of times on Facebook.
Urbana Sgt. Andrew Charles told The News-Gazette that his department started receiving calls about the Facebook photos. Charles looked at the post, and said he saw many people making violent threats directed at Mellott and his place of employment, Walmart.
According to police, Mellott continued to post similar photos to Facebook, so police arrested him under the state's flag desecration law.
Police said they made the decision to arrest him after consulting with the Champaign County State's Attorney's office and weighing his free speech rights against concerns of public safety.
After Mellott was arrested, he was released and he received a notice to appear in court.