Jury Acquits Ex-Patriots TE Aaron Hernandez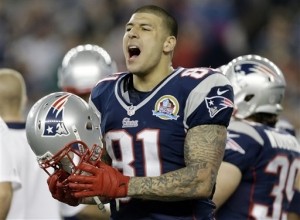 Ex-NFL star Aaron Hernandez, who is already serving a life sentence for a 2013 murder, was acquitted Friday in a 2012 double slaying prosecutors said was fueled by his anger over a spilled drink.
The former tight end for the New England Patriots wept quietly as the verdicts were read in Boston.
After six days of deliberations, the jury found Hernandez not guilty of first-degree murder in the killings of Daniel de Abreu and Safiro Furtado. It convicted him of a single charge: unlawful possession of a gun. The judge sentenced him to an additional four to five years in prison, separate from his existing life sentence.