Arrests Made After Facebook Posts Urged Others To 'Kill All White Cops'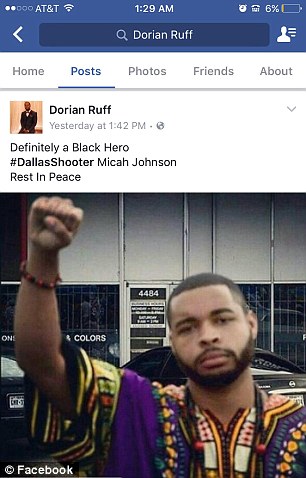 Detroit police have arrested at least four men over Facebook posts urging people to kill white cops in the wake of the Dallas massacre.
Law enforcement across the country has been on high alert since Micah Johnson, 25, shot dead five police officers and injured seven more at a Black Live Matter protest on Thursday.
Since then, counter-terrorism units have discovered a worrying number of individuals on social media praising the shooter as a 'hero' and calling for similar attacks on police officers.
Detroit officers have now arrested at least four suspects after discovering they had made threats against cops online, Detroit News reports.
One of suspects wrote: 'All lives can't matter until black lives matter. Kill all white cops.'
Another said: 'It's time to wage­ war and shoot the police first', while a third said Johnson was his 'hero' and had 'inspired me to do the exact same thing.'
Detroit Chief James Craig said in the wake of the Dallas mass shooting, he is taking the threats to his officers very seriously as he said his department is 'in a higher state of alertness.'
After his release from custody yesterday, Ruff said that he was 'now aware my page is being monitored.'