We know crows are attracted by shiny objects, but one Canadian crow named Canuck is causing a stir in Vancouver, British Columbia.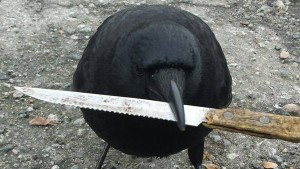 He apparently enjoys taking knives. But his latest caper took place at a crime scene.
Police were at a crime scene recently where a man confronted another man with a knife and shots were fired, the CBC reported.
As police investigated, a reporter noticed a crow, who many believe was Canuck, swoop down and pick up the knife.
Police chased Canuck about 20 feet before the bird dropped his weapon.
Canuck is infamous in Vancouver.  He has his own Facebook page where fans can follow his exploits.
Facebook Comments
Law Officer is the only major law enforcement publication and website owned and operated by law enforcement. This unique facet makes Law Officer much more than just a publishing company but is a true advocate for the profession.