We Owe Our Retired Police Officers More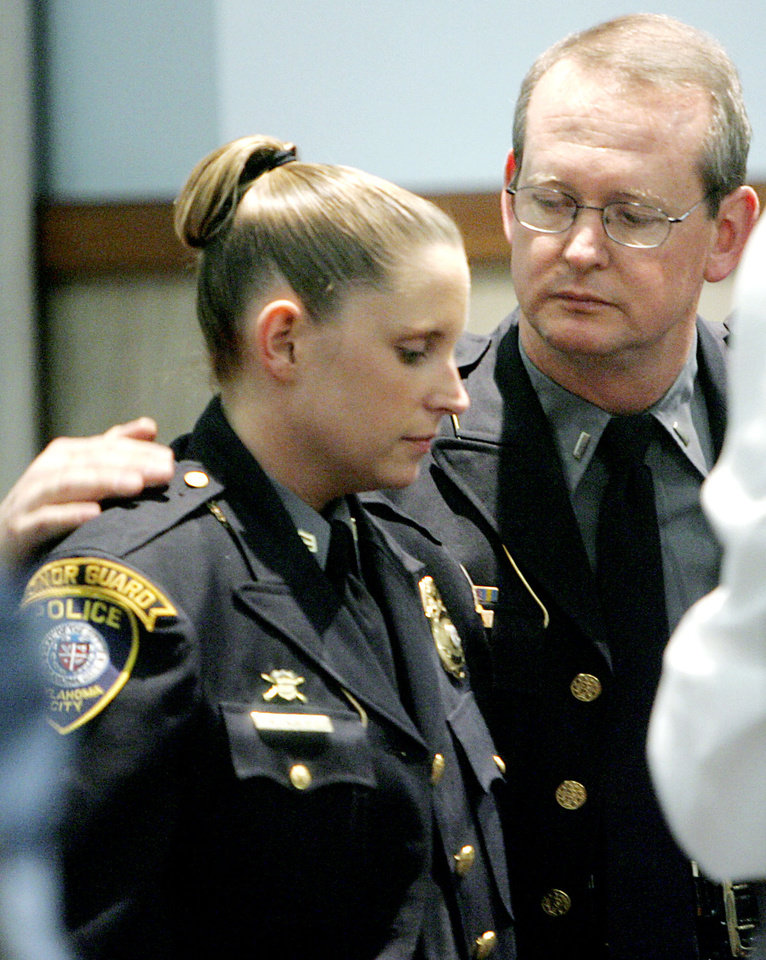 Lt. Brett Macy (right) comforts Officer Kelly Dragus as they stand in the courtroom at the sentencing of the man that killed Sgt. Jonathan Dragus.  Photo Courtesy:  John Clanton, The Oklahoman
---
The vast majority of police officers retire prior to the age of 65.  The stress of the job combined with the physical demand almost makes it mandatory well before medicare age.
That fact is literally breaking the banks of retired police officers across the nation.
Kelly Dragus understands this.
A former Oklahoma City Police Officer that has a son with autism faces a quadruple-digit monthly premium in January, up from the $600 or so she pays currently.
She is the widow of Oklahoma City Sgt. Jonathan Dragus, who died in the line of duty.
She's not asking the city for free healthcare but just wants to be able to afford her premium.
She's gone back to work as a realtor, so she can afford her son's medical expenses.
She tells KFOR that "at this point, I'm hopeful I'll be able to make ends meet next month," she said. "A thousand dollars a month is literally half of my husband's pension. What we'll have left [after paying insurance] will not even cover our mortgage."
I went to the funeral of Sgt. Dragus and as I looked at his family, I was only consoled with the fact that we, as police agencies, would take care of that family that just lost a husband and a father.  It is our duty.
Agencies, unions and communities are all failing at this.
The current retiree insurance at many agencies are well above the $1000 mark.  Can you imagine working for decades as a police officer, taking care of your finances were you could actually live on a pension of 50%-75% of what you made, only to be told it's now 20% or worse?
We are all to blame including myself.  Admittedly, I didn't think much of it until I became eligible for retirement myself but we have to do better.
We tell our new officers that you won't get rich but you get to make a difference in a crazy world and the retirement isn't all that bad.  It turns out, when you subtract healthcare, there really isn't a retirement at all.
Our heroes behind the badge deserve more and I think we all should play a part in making that happen.
Kelly Dragus certainly deserves more and I think every law enforcement officer that puts their life on the line for their community does as well.