One retired police detective decided to fight back after his 12-year old daughter was bullied at school for backing Donald Trump.
John Paprcka retired from DC's Metropolitan Police Department earlier this year after being a police officer for 25 years. He decided to use his new spare time to build the big TRUMP sign on his roof to boost support among Marylanders at arrivals. Det. Paprcka used his neighbor's old decking and built individual, four foot tall letters. He then spray painted them orange and installed them on his roof. He also put a smaller version on his mailbox to catch the drive-by voters.
Det. Paprcka's personal mission was to teach his daughter Graceyn to not back down from her beliefs. He said she was getting "picked on at school because she said she likes Trump."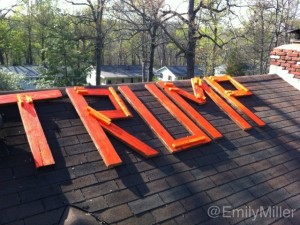 While on the force, Det. Paprcka wasn't allowed to be open about his political beliefs. "As a retired D.C. cop, I can now speak freely," he explained about why he is suddenly going public with his political stance. "I built the sign because I believe in Trump," he said. "Guess that makes me part of the silent majority."
Law Officer is the only major law enforcement publication and website owned and operated by law enforcement. This unique facet makes Law Officer much more than just a publishing company but is a true advocate for the profession.