Charlotte Boy Gives Police Officers 'Free Hugs' In Midst Of Riots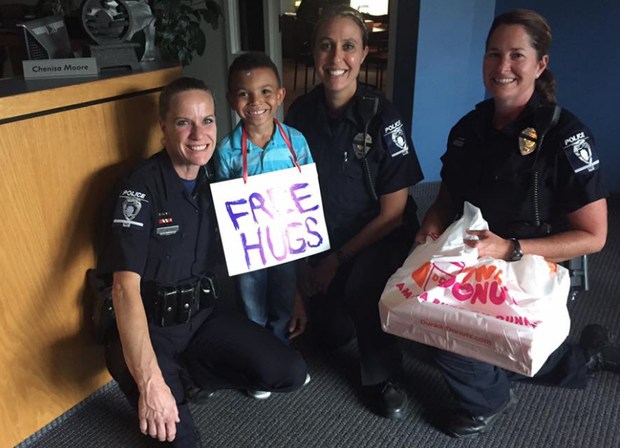 Photo Courtesy: DEANNA HOOKER
A 5-year-old boy's response to the violent protests in Charlotte, North Carolina, is touching hearts across the country.
Deanna Hooker describes her son, Jayden, as an "old soul," which is why she wasn't surprised by the kindergartner's request to visit police officers after learning several were hurt during a Tuesday night demonstration over the fatal police shooting of 43-year-old Keith Lamont Scott.
[sc name="Article Mobile Ad" ]
"I want to give them hugs so they're not scared," the little boy told his mom.
After school on Wednesday, Jayden picked out his favorite glazed doughnuts and drew a sign that said "Free Hugs" on it, wearing it proudly around his chest.
As the car pulled into the parking lot of the Charlotte-Mecklenburg Police Department, the 5-year-old could hardly contain his excitement. He walked toward the building eager to offer the officers a hug and a doughnut.
The cops were in tears — and so was Jayden's mother — as they kneeled down to accept hugs from the little boy.