Before and After: A Son's Perspective On Suicide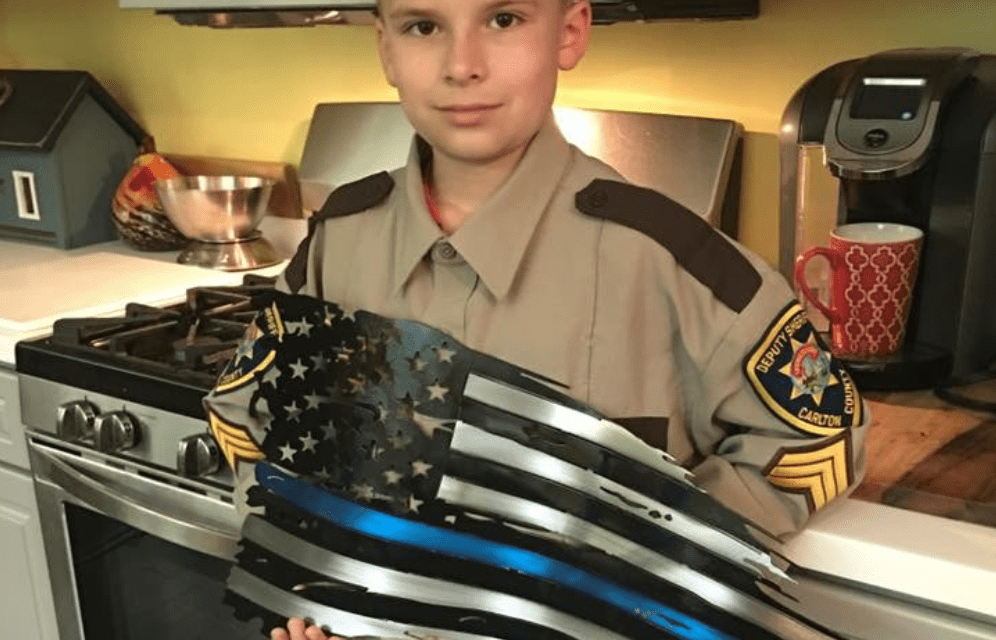 Editor's Note:  For months we have been telling you that the issue of police suicide must come out of the shadows and into mainstream and with that, Law Officer has a responsibility to you.  With the permission of his mother, we present an important article from the perspective of a young man that is stepping up in the face of grief.  Thank you Preston for your courage and thank you Heidi for leading on this very important issue.
---
If you had asked Preston before October 20, 2016 what his idea of a good day would be, he'd include something with his dad. Today, his idea of a good day is eating a tuna sandwich with his best friend while playing video games.
Before and after.
Before Sergeant Jesse James Peterson killed himself.
After Sergeant Jesse James Peterson killed himself.
Preston's family, like thousands more, live with the before while in the aftermath of a suicide.
On the evening of October 20, 2016, Jesse's wife Heidi returned home to find her husband had killed himself in the garage while their four children slept.
"My mom told us that our dad was dead. I was pretty much happy until she told me," he said. "I felt a bunch of emotions: angry, sad, pretty much everything in that moment. Just a bunch of emotions."
"The funeral was really sad; there were a couple of laughs when I tried to shake his hand. It was really stiff. I don't know why I tried, I just wanted to. I saw a couple of old friends that I recognized. My old teacher was there. I cried at the funeral."
Preston didn't know until after the funeral that Jesse had killed himself. He was "terrified" to think that someone had killed his father. When he found out it was suicide he became angry and sadder. If he could say one more thing to his dad, it would be this: "Why did you go? I would tell Mom and we'd get help immediately. If he told us he was feeling this way we would have helped him."
Preston, a funny, intelligent, compassionate young man, has joined his mother, Heidi, to advocate on behalf of suicide prevention and the families who have lost loved ones to suicide. His emotions are complicated, but easily articulated. He is open and honest, but there are topics he can't discuss. He can't tell you how he feels about his dad dying in the garage.
He's confused about the way society views suicide. "I believe that people think that suicide is the worst thing that could happen. I think that people should be remembered for their good deeds not how they died," Preston stated firmly.  "People are afraid to talk about it. 'Oh geez, that guy committed suicide.' They are probably like, 'why do they even talk about it?'"
He hasn't told many of his friends how his father died, because "they would be shocked if they knew about it," he said. When asked if he thought it would help to meet other kids that have lost a parent to suicide he stated sadly, "no, it wouldn't help knowing other kids. They wouldn't want to talk about it."
Preston is sometimes frustrated by the adults around him. There was a fundraiser for his family, and now, a year later, the money hasn't been given to them nor has the amount been disclosed. "My sister needs braces," he said. "I feel like they should give us the money." He knows that their source of income is now gone.
Because of this new void in their life, Preston has stepped up. "Since Dad died, I've tried to be the best kid I could ever be, best grades, not get in trouble, all that stuff. I hate taking out the garbage now, but the good part is I get to stay up a little later." While Preston also tries to be a model for his three younger siblings, he admits that it's sometimes hard to face a new day. "Some days it's courage that gets me up, not thinking about stuff. Other days I know I have to get up for other people."
He knows he can't always talk to his nine year old sister about their dad, as "She tries to put it off to the side and think about other things; she's really emotional talking about it." And with that statement, Preston tells me about a book he read in school: "There's a book we read in 4th period, The Heart and The Bottle. The girl's dad passed away, so she figuratively put her heart in a bottle to keep her emotions. She kept them in there so long, she couldn't get them back. I remember this because I TRULY understand what they are talking about. I've been through that."
Preston knows he can trust his mother with his feelings, and he is very proud of her and her independence. She's carving out a new life for them while still honoring their father. He is wise enough to know that his mom copes by building things in the garage, but young enough to wish they could go back to their old house because that's where his favorite memories are. Memories that include his dad.
On his eleventh birthday, he asked his mom to record (see below) his birthday wish. He didn't tell anyone what his wish would be. "My wish is that my dad and all the other officers who have committed suicide get honored for their service."
His most coveted wish? The one he didn't speak as he blew out the candle? "My only wish would be to have my dad back. I miss him. I'm missing the person I loved, my Dad."
Yes, it's heartbreaking to hear Preston's voice. It's heartbreaking for him to tell his story. So why are we doing this? Because he wants us to. He wants people to know that it's his voice speaking to you. He also doesn't want you to focus on him. "I don't think that people should only know about my family; they know about the countless families that have people that had suicides." Preston goes on to say, "I wish the world would find a way to stop it. It's a really bad thing to happen in society. I feel like it's the right thing to do to raise awareness of suicide."
The most important thing that he wants you to hear from him? "Stop. Your life matters. Me and my family have suffered and so have millions. We have to raise awareness in our society. We have to stop this."