5 Killers of Positive Culture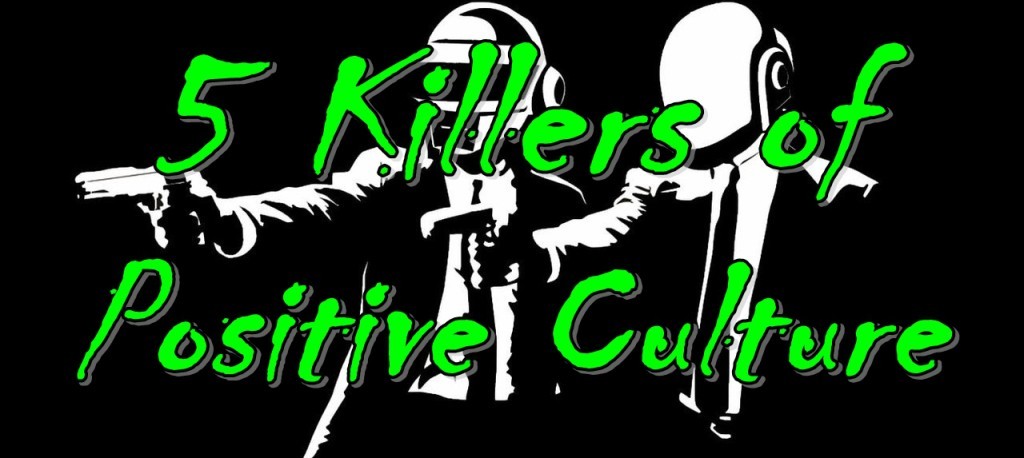 A leader must be intentional in the culture they wish to create, because if they aren't, then there is no telling what kind of culture may grow in its place. For all of the time and effort put into creating a positive culture, it only takes a few poorly timed miscues to throw away everything.  To help avoid these culture development pitfalls, I want to highlight 5 killers of positive culture.
This is the way we've always done it.
One of the greatest benefits that stems from having a positive culture is initiative to innovate. When an officer feels safe enough to share a new concept or idea for improvement with their leader, that is a sign that there is a good, positive culture established. The innovators within the culture are trying to find ways to contribute to the culture's success. Unfortunately, if all or most new ideas get shot down solely because it is not the way it has been done in the past, then the leader doing the shooting down is teaching their officers not to waste their time innovating. A group that feels as if they do not have the power to assist in improving their current situation is a defeated group that will specialize in mediocrity.
You're just doing your job.
Any supervisor that feels the need to tell their officers that they are "just doing their job" will never wear the title of leader and will eventually kill any positive culture that may have been present. Leadership 101 states that you should educate your followers on the value they bring to others through their work. The more value someone feels their work has, the less it feels like something they have to do and more like something they get to do. When someone feels like they are contributing to a cause greater than themselves, then they will be more motivated, productive, and happy while doing their work.
It's all about me.
One aspect of a positive culture is the feeling that they are a part of a supportive, team environment. When those on the team feel that everyone has a "we" before "I" approach to their work, great things can be achieved. But, if the leader of any team has an "it's all about me" attitude, then the team is sure to fail. An "it's all about me" attitude can take on many different forms. It may be a leader that only cares about doing what needs to be done to get their next promotion as quickly as possible. It could be a leader that has a C.Y.A. philosophy and does not hesitate to throw their officers under the closest bus should it be needed to protect their own interests. Ultimately, leadership has nothing to do with "me" and everything to do with "we." The most successful leaders recognize that their success comes through the success of their officers.
It always rolls downhill.
Everything rolls downhill when those at the top want nothing to do with it. So, the question you, as a leader, have got to ask is this . . . where should it stop? A leader must constantly evaluate those things that roll downhill and decide if whatever it is should continue rolling or should it stop at my level? If the answer is that it should always roll downhill until it reaches someone that does not have a choice in dealing with it, then you have found yet another way to kill positive culture. A leadership position means that you take on the role of an umbrella; shielding your officers from having to deal with everything that rolls downhill by truly assessing the best place for things to be taken care of. If it is an issue created directly by one of your officers, then by all means the best learning experience will be for them to deal with it and develop their own solution. But, if it has absolutely nothing to do with any of your officers and it is just a crap job that no one else wants to do, then that is your opportunity as the leader to stand tall and confront the problem yourself. Delegating is an excellent tool, but not one to be taken advantage of just because you have the authority to do so and do not like the task at hand.
Do as I say, not as I do.
As a leader, you set the example. You are the prototype for how you want your officers to carry themselves, treat others, be productive, and handle their work. If you show motivation, trust, and loyalty; then your officers will reciprocate by showing you motivation, trust, and loyalty. On the other hand, if what you say does not match what you do, your officers will be the first ones to pick up on that. Hypocrisy will take any existence of a positive culture and snuff it out like a candle in the wind. Then a culture of self-preservation, fear, and confusion will be what takes root since the actions of the leader do not match the words they are saying which creates an uncertain environment.
These 5 killers of positive culture are not elaborate, complex behaviors. They are simple, basic actions that anyone, if not careful, can make the mistake of committing. No person takes on a leadership role with the intention of destroying or hampering a positive culture, but it is easy to see how simple miscues can quickly lead to that result.
---
The mission at Thin Blue Line of Leadership is to inspire law enforcement supervisors to be the best leaders they can be by providing positive leadership and culture development tactics. Positive leadership and creating a positive squad culture are on-going commitments that must be nurtured and developed over time.
Thin Blue Line of Leadership is here to help. Continue reading our Twitter feed and check out our other blogs for tactics on creating positive culture. Share your thoughts or comments on this blog below or on our Facebook page. You can also follow us on Twitter at @tbl_leadership.
Continue saving the world one call at a time and as always, LEAD ON!