ILEETA 2009: A Preview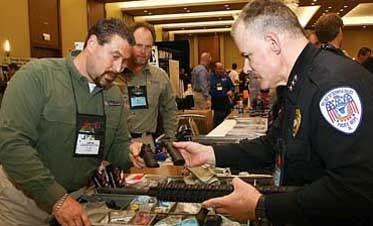 The International Law Enforcement Educators and Trainers Association (ILEETA) will hold its 2009 International Training Conference and Expo at the Westin Chicago North Shore in Wheeling, Ill., April 20-25. In addition to delivering information designed to keep officers alive and improve instructional delivery, the expo offers a forum in which law enforcement professionals can interact with manufacturers and distributors to gain information and learn about cutting-edge technology affecting the products and programs used in the criminal justice training field.
This year's presenters include nationally respected trainers and law enforcement professionals, including many Law Officer (LOM) contributors. In his session, Chief Jeff Chudwin will address the legal and tactical aspects of the police use of deadly force, and the mindset and training that prepare officers and agencies for lawful and justifiable actions on the street and in the aftermath of events.
Law enforcement use of force is under the microscope, and contributor Kevin R. Davis will focus on the legal standards, policy suggestions, human performance factors, union/officer issues, guidelines and recommendations for reporting and investigating deadly or non-deadly use-of-force incidents in his session, "Use-of-Force Investigations."
Firearms columnist Dave Spaulding says the best of defensive skills are worthless without the willingness to fight. In this issue, Spaulding offers a true sample of the information his session, "Developing the Combative Mind," will contain (p. 46).
Brian McKenna, who writes LOM's quarterly Officer Down series, says that almost every aspect of officer safety involves the mind. In "Instilling the Winning Edge," McKenna uses case studies based on extensive debriefings of officers involved in lethal encounters to teach officers the mental skills needed to win on the street.
You're hurt, alone and the threat may still be active. Can you quickly treat your own injuries and get back in the fight? That's the topic for Eric M. Dickinson's session, "Plug the Holes Get Back in the Fight," and the subject of an article slated for a coming issue.
Legal Eagle columnist Laura Scarry uses her column every month to discuss the case law behind the tactics instructors teach regularly. In her session, "'Top 10' Supreme Court Cases Trainers Should Know," she will familiarize law enforcement trainers with 10 of the most relevant Supreme Court cases in simple, easy to understand terms. (See p. 20 for case law relevant to suspect pat-downs.)
Other LOM contributors speaking at the conference include Jim Donahue, Charles Humes Jr., Ken Solosky, Valerie Van Brocklin and Travis Yates. For more information about ILEETA, to register for the conference or to join the organization, visit www.ileeta.org.