The Power of Unconditional Respect: Officer Praised For Comforting Child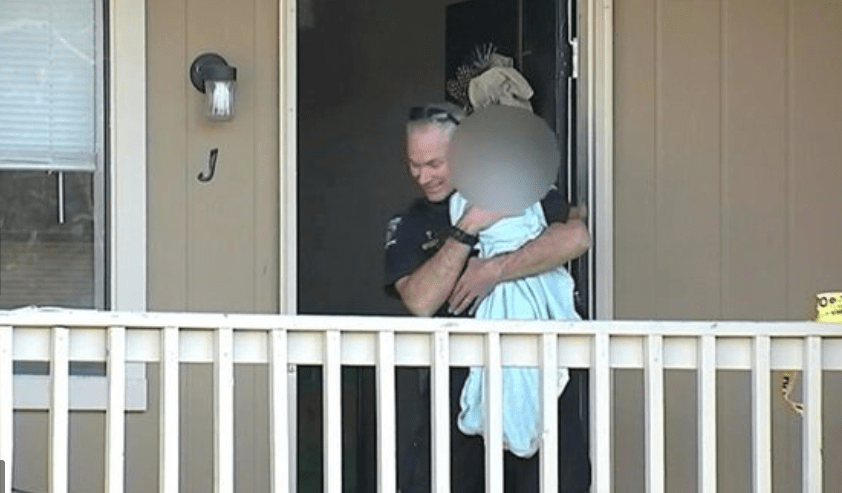 Kansas City (MO) Major Chip Huth calls it the "Power of Unconditional Respect" and I often refer to it in the Courageous Leadership Seminar sponsored by the Courageous Leadership Institute.
Courageous Community is the last topic because I firmly believe it is the most important but often the most ignored.  It's not neglected because we don't care but there has never been a time where the demands of law enforcement have been this high and in the midst of the call load we can sometimes forget the most important aspect of police work…..the people that we serve.
That is why the story of a Charlotte-Mecklenburg police officer comforting a 6 month old child after her mother was shot breastfeeding matters.
Officer Gil Allred responded to the call.  A suspect broke into the home and shot the mother.  When the fire department was unable to calm the child, they handed her to Gil.
The father of three took over and the "Power of Unconditional Respect" happened.
And it is indeed "Power."  It's the reason that Dickinson County (Kansas) Sheriff Gareth Hoffman implemented the "10 Minute Rule," telling every deputy that after you solved the problem for the citizens they serve, they will spend ten more minutes with them.  It is in that time, that Sheriff Hoffman tells me the real power of Courageous Community happens.  Citizens don't see law enforcement as robots behind a uniform and the police don't see citizens as the problems they have to fix that day.
In those ten minutes, barriers are broken, names are remembered and commonalities among each are brought out.  How do you respect others? You spend the most precious thing that we all have with them….our time.
That is why Officer Gil Allred should be applauded but I certainly hope that one day this isn't news.  Not that it should not be commended because it should be but because it happens every day from every officer that wears a badge and it becomes the norm.
---
To find out more about the Courageous Leadership Seminar you can visit here.

What others are saying about the Seminar:
"This is some of the best training I have attended in over 40 years of law enforcement."
Scott Johnson, Chief of Police – Grand Rapids (MN) Police Department
"I have never attended a leadership training so inspiring to be strong,  stand for for what is right, and not just cave to the few individuals in this world that would like to see us fail."
Officer Travis Luttmer, Oregon
"I found this to be one of the best leadership courses I have ever taken in my career. Never would have though that on my very next shift after attending this training, that I would be the Sergeant on duty, and at the scene of a critical incident Officer involved.  Thankfully, in the follow through of the incident I was able to use a lot of what Major Yates and Stacey Ettel covered in this course to not only manage the incident as best as I can, but support my officers as best as I can throughout the whole situation and in the days after. Many thanks to Travis and Stacey for this course!!!"
Sergeant Brandon Ackney, Wisconsin