Two Women, Two Children Found Dead, Attacked in Horrid Living Conditions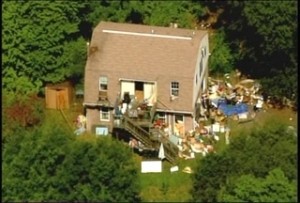 Updated at 6:10pm ET
LANHAM, Md. – Two women and two children were found dead Friday in a trash-filled, makeshift apartment above a detached garage at a suburban Maryland home, police said.
Prince George's County Police Chief Roberto Hylton said police were questioning several people at police headquarters, and believe whoever is responsible for the deaths may have known the victims. He said the attack appeared "personal" rather than random, and would not reveal the causes of the victims' deaths.
Hylton said people seemed to be living in the space above the garage, but noted it had no running water or toilet facilities. Police say the amount of trash in the living space is making it difficult for detectives to sift through evidence.
"I'm very disgusted about this," Hylton said.
There was police tape stretched across the front perimeter of the two-story tan and brown, half-brick and half-vinyl home on Friday morning. A turquoise work van was parked in the driveway, and piles of boxes, sheets, toys, clothing, shelves and other trash could be seen inside and outside the detached garage unit where the bodies were found. Metal objects and mattresses were stacked outside the garage as well.
Dozens of recruits from the Prince George's County police academy helped process the scene Friday afternoon, searching for evidence and any weapons.
Officers say they responded to a call from someone on the property who reported an assault Friday around 2:40 a.m. They found the bodies of two women and a boy and girl under 6. All four were pronounced dead on the scene.
Prince George's County police officers and neighbors said the neighborhood is a peaceful place where police don't often receive calls.
"This is a quiet area," said Virginia Walley, 84, who has lived on the street where the bodies were found since 1956.
Walley says she was surprised to wake up and see police cars when she looked out her kitchen window.
"It scared me when they blocked the street off like that," Walley said, adding that she didn't know the people who lived at the home where the deaths happened.