South Pasadena (Calif.) Officer Dies During Firearms Training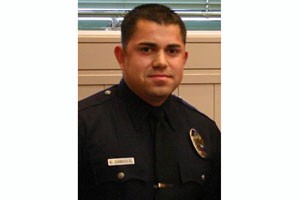 ANGELES NATIONAL FOREST — A South Pasadena police officer has died during a training exercise at Burro Canyon Shooting Park, authorities said.
Kevin Sandoval, 23, was pronounced dead at about 3 p.m. following a training accident.
Sandoval was doing firearms training when he fell for an unknown reason and hit his head, said Monterey Park Police Sgt. Frank Duke who is speaking to the press on behalf of the South Pasadena Police Department. The officer was airlifted to Foothill Presbyterian Hospital in Glendora but succumbed to his injuries, Duke said.
The incident, which happened at about 2 p.m., is under investigation, Duke said. The officer was not shot during training, Duke said. Paramedics treated Sandoval directly after the incident, Duke said. Duke was not sure why the paramedics were at the shooting range, but sometimes certain paramedics do training at the facility as well, Duke said.
Sandoval had been an officer with South Pasadena for two years and was a cadet with the department for more than a year prior to that, Duke said. He was not married and is survived by his sister and parents.
Many police departments, including South Pasadena and Monterey Park, train at Burro Canyon on East Fork Road off Highway 39 near the Morris Reservoir. The shooting park opened in 1993.