Social Media: Will It Help or Hurt You?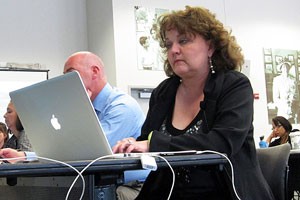 Did you know social media, the Web and technology—in general—can both empower and cripple law enforcement operations?
That fact became very clear to me as I listened to the outstanding speakers at the Social Media, the Internet & Law Enforcement (SMILE) Conference in Chicago, May 9-11.
Four of the dozens of experts at the conference touched on the following topics.
Follow a Simple Social Media Strategy
Lauri Stevens, the founder of the SMILE Conference, says:
Social media is a huge force multiplier. With staff being cut back, this is the time when you should be adopting social media. Too many departments are saying they don't have time.
When you effectively embrace social media, you can almost forget about the traditional media. You no longer have to cater to them. They'll follow you.
The key is to take advantage of the opportunities.
For a simple social media strategy, remember the acronym COPPS:
Citizens (Who): Don't lose sight of the fact that it's all about law enforcement's constituents, the citizens.
Objectives (What): Concentrate on identifying what you want to achieve.
Plan (Where and How): Once you have your objectives identified, start on the four key parts of developing your plan: a) The technology (which media) you will use; b) The content you will produce; c) The personnel who will make this program happen; and d) The training needed to get staff up to a knowledgeable level.
Policy (How and Why): A policy for social media is a must. It may be incorporated in existing communication/media policy. It should include code of conduct issues for both on- and off-duty actions.
Schedule (When): Lack of a schedule can result in failure. Start by rolling out the simpler parts of the plan and build from there. Think about where you want to be in three/six/nine months and work backward from there.
Build Your Reputation
Massimo Bergamini, with InterChange Public Affairs, says:
You must know what your story is and define your brand, what you want to be known for. How can you engage in effective communications when you don't even know what you're all about? The first step is defining your brand, your story.
Know your brand (your story) and be consistent across all channels.
Regarding your reputation, it is best to "nurture and build than to repair or hide."
He showed the famous United Breaks Guitars YouTube video and stated, "When things go wrong, be proactive and get ahead of the curve. Be consistent and engage your network. If you have a support network, they will help you."
Remember: Every crisis equals greater attention to your brand and that equals opportunity. Use negative events as a chance to shine and tell your story.
Reputation is your bedrock. Tell your story and build your brand. Integrate and coordinate your communications.
Engage your communities. Identify the leaders and reach out to them. And, lastly, be responsive.
Don't Be at the Mercy of the Media
Anne Schwartz, the communications director at the Milwaukee Police Department, says:
Social media gives you the ability to put out your own news and creates a situation where you are not at the mercy of the media.
You must be engaged with social media because you've "got to see what people are saying about you."
One of Milwaukee's Web programs is called For the Record and seeks to draw attention to erroneous news reports or rumors and set the record straight. MPD has found this to be a very powerful tool in communicating the true story to the public.
Because of its widespread use and immediacy, social media can undermine critical police actions. SWAT operations, for instance, depend on the element of surprise. Tactical officers need to consider the possibility of being compromised through social media and someone should be monitoring all possible news sources.
Schwartz showed a video where the movements and position of police snipers were broadcast during the actual police action.
Sometimes a video can provide clear evidence that an officer acted properly in a controversial incident but the video is part of evidence and can't be shown. Schwartz suggested that consideration be given to using a still frame image to make a key point when possible, noting this may be enough to address public concern without compromising the evidence. An example was given of an officer-involved shooting where the suspect could be seen firing at an officer. Always make sure this is cleared with the prosecuting authority.

Ensure Your Technology Works for Your Department
Nick Selby, a police officer in the Dallas-Fort Worth area and information security analyst, says:
We need to drive our technology, be it technology in the patrol car to the computers we use, to serve our needs. This doesn't mean finding the cheapest equipment that will do what we tactically need.
Vendors need to know what's important to you. If you don't tell them, they won't know.
Agencies must work together to get economies of scale sufficient to incentivize vendors to meet our needs. To do this, we must speak the same language. Selby acknowledged agencies have differences but there are more similarities than differences.
Three things that all law enforcement technology must have:
Integration: Stuff must work together. There is no excuse for it not to. Making this a priority increases the strategic value of the technology. Failing to do this can relegate very expensive equipment to just a tactical use.
Simplicity: Technology in law enforcement fails if it is not simple. Tech must be field tested; force the vendors to operate in your real-world environment and see their product in action.
Utility: Stuff has to do what we need it to do. The utility of a product is directly related to its integration and simplicity but transcends those characteristics. Utility is the ability of a product to change the way we work and make us more effective.
Bottom line: "Let's reduce the suck," he said.