Raid Cop Tells Jury He s a Victim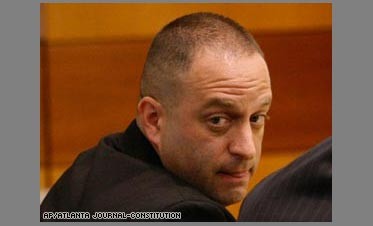 ATLANTA — Atlanta police Detective Arthur Bruce Tesler said there were more victims than a 92-year-old woman in the botched and illegal police raid on a suspected drug house more than two years ago.
"I am a victim," the 42-year-old Tesler told the Fulton County jury when testifying in Superior Court for more than six hours Wednesday.
Tesler is the only officer to face a jury regarding his actions on Nov. 21, 2006, when his narcotics team conducted a raid at 933 Neal St. and killed Kathryn Johnston. The team had been told a drug dealer named "Sam" operated from the house and had a kilo of cocaine, but it lied to a judge by saying it verified its informant's information. Instead, the team was fired on by the elderly Johnston when knocking down her door.
Tesler took the stand Wednesday and told the jury that his former partners Gregg Junnier and Jason "JR" Smith planned the coverup of the wrongdoing that led to Johnston's death.
He said he got his first inkling that something was wrong with the raid when he saw Smith outside the Johnston house after the botched raid.
"JR was scared, he was very nervous," said Tesler, 42. "He came up to me and said 'I think I killed this woman.' He said, 'You guys got to help me.' "
Junnier and Smith have pleaded guilty to voluntary manslaughter and are awaiting sentencing.
Tesler's defense concluded its case Tuesday afternoon. The jury is expected to begin deliberations after closing arguments today.
Tesler, who was stationed at the back of the house, was indicted with lesser offenses of violating his oath of office, lying in an official investigation and false imprisonment for his role in the raid on Johnston's house.
Prosecutor Kellie Hill grilled Tesler throughout the afternoon."At some point don't you have to stand up and do what is right?" Hill asked.
Tesler, who had been on the team since earlier that year, said the officers implicated him in the coverup and he feared they would frame him or harm him if he didn't go along with their plan.
He broke down in tears on the witness stand when he described how he learned his wife was pregnant with their fourth child during the middle of the coverup. "A woman is dead, my wife is pregnant and I was scared," Tesler said. "I was scared of being physically harmed. These are people who are suppose to back me up on calls and if I go against them, they might not be there if I need help."
Tesler, who acknowledged lying to the FBI and state investigators, began cooperating on Jan. 4, 2007.
"I made it very clear that I wanted to cooperate with them," Tesler said, wiping tears from his eyes. "I didn't want to go to jail." Among those watching Tesler on the witness stand was New York-based civil rights activist the Rev. Al Sharpton, who sat in on some of the morning testimony.