Maryland Police Stop Possible Mass Shooting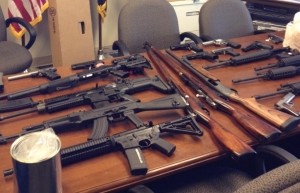 CROFTON, Md. (WJLA) – Authorities in Prince George's and Anne Arundel counties have foiled what they believe would have been a mass shooting by a man who was about to be fired from his job, police sources tell ABC 7 News.
Law enforcement sources tell ABC 7's Brad Bell that the suspect, Neil Trescott, was arrested in Crofton on Thursday night. According to officials, the man was facing termination from his job at Pitney Bowes, the document, mailing and shipping company.
"I'm a joker and I'm gonna load my guns and blow everybody up," he allegedly said, according to documents.
He was also wearing a T-Shirt that said: "Guns don't kill people. I do."
Investigators say a search of Trescott's home turned up more than 20 guns, including assault rifles and handguns, and thousands of rounds of ammunition.
Law enforcement sources say the suspect allegedly called a former co-worker and threatened that he wanted to shoot his former boss. He allegedly made threats twice.
The threats were made on multiple times on separate phone calls, police say. Trescott even acknowledged that it wasn't a good idea to say these things but said them anyway, police say.
Another law enforcement source says the suspect was prepared to act on his threat. Pitney Bowes' Maryland offices are located in Lanham.
A law enforcement source told ABC 7 that they believe the foiled shooting "could have been another Aurora," making reference to the mass shooting that happened last Friday in suburban Denver.
On July 20, a man shot more than 70 people inside an Aurora, Colo. movie theater during a midnight screening of The Dark Knight Rises. The accused shooter, James Holmes, will be formally charged in connection with the shooting next week.