LEOs Attend Downed Pilot Rescue Training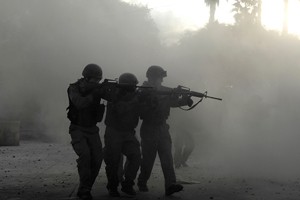 LEOs, military special ops and government counterterrorism personnel gathered for the
HALO Corporation's Counterterrorism Summit
last week in San Diego. Although the overall attendee and exhibitor attendance took a big hit from Superstorm Sandy, which prevented many people from traveling, one highly attended event was the Downed Pilot Rescue, conducted by the training company
Strategic Operations
.
Led by a president with 35 years in the film industry and an executive vice president who flew 243 combat missions in Vietnam, Strategic Operations creates what it terms "hyper-realistic" training. It combines Hollywood battlefield special effects, combat wound effects, medical simulation systems and role players to produce an environment that is so close to real that participants react with the stress and fear of a live event—and thus learn valuable lessons about how to react under combat. The company has provided training support to more than 600,000 military personnel, but it's also branching into the public safety sector, as evidenced by the HALO event and a
recent training with the San Diego Fire Department
.
The HALO training demonstration featured a "developing-world" (think Afghanistan) village, constructed specifically for the training, as well as a team of actors who impersonated villagers and insurgents. Former Navy SEALs formed the airborne quick reaction force (QRF), and members of San Diego-area SWAT formed the force that eventually took over the village.
The scenario: A downed pilot is trapped in the village. The QRF parachutes into the village to attempt to extract the downed pilot while the opposition force fires rocket-propelled grenades (RPGs) and small arms fire at them. The quick reaction force fights off the opposition, fights its way into the village, locates and administers aid to the pilot, extracts him and leaves.
A key component of the demonstration involved the QRF administering medical care to the downed pilot. Tactical medicine isn't something LEOs have to practice often, but when an incident arises, some basic field knowledge (such as how to apply a tourniquet) can help you save yourself or your partner. This training featured the use of the
"cut suit,"
which is an incredibly realistic suit worn by the victim that allows first responders to perform medical care procedures. And we're not talking simple things like applying bandages. The cut suit allows for the practice of (among others):
Extremity tourniquet application and hemorrhage control

Extremity arterial hemorrhage clamping

Surgical incisions to the thoracic and abdominal cavity with venous bleeding

Suturing or stapling of gross organs & skin in all locations

Urinary catheterization and bladder tap

Peripheral IV access
Check out the photos from this unique demonstration and let us know what you think: How does your training match up? Would LEOs benefit from "hyper-realistic" training?