Law Officer Magazine Presents 2012 Gold Badge of Service Award to DSM Dyneema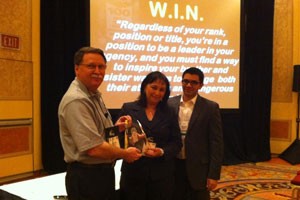 SAN DIEGO, January 16, 2012 – Law Officer Magazine, published by Elsevier Public Safety, is proud to announce DSM Dyneema as the Gold Badge of Service Award winner for 2012. The Gold Badge of Service is presented each year to a company that has demonstrated an outstanding level of commitment and service to the law enforcement community.
"DSM Dyneema has demonstrated outstanding support to the law enforcement community during the past year through their unwavering support of Below 100, an initiative to drive down police line-of-duty deaths. They've been an invaluable partner and they've supported numerous training presentations around the country," said Dale Stockton, Editor-in-Chief of Law Officer.
The company produces Dyneema®, often referred to as the world's strongest fiber and a key component in many of the most effective body armor products available today. The company's motto, "With you when it matters," speaks volumes about its commitment to saving lives of law enforcement officers.
A commitment to service and customers
Demonstrating their dedication to their customers, DSM Dyneema is rapidly being recognized throughout the public safety market as an innovative and responsive manufacturer. Their products demonstrate a real commitment to first responders – both public safety and the military. The incredible strength of the Dyneema fiber has resulted in some of the most effective armor materials ever produced. It has also made it suitable for products that are finding their way into the medical and industrial world.
Perhaps the biggest example of DSM Dyneema's commitment to law enforcement has been in their unwavering support of Below 100. The company's donation to the officer safety program resulted in the presentation of Below 100 Train-the-Trainer programs across the US, an effort that is continuing into 2012 with Dyneema's help. The program has drawn praise from the International Association of Directors of Law Enforcement Standards and Training (IADLEST), the Concerns of Police Survivors (COPS), the Officer Down Memorial Page (ODMP.org) and the Association of Law Enforcement Response Trainers (ALERT International).
"We've seen many programs and curriculum over the years. Some last only as a short fad and others sustain for a while but in my almost two decades of training, I have never seen anything as simple and powerful as Below 100. It truly is a game changer for our profession" said Travis Yates, President of ALERT International. "The folks at Dyneema have helped make this happen."
"Dyneema has been there when we needed them and they've been willing to stay in the background without drawing any attention away from the Below 100 program," said Stockton. "This has allowed us to gain the support of the law enforcement community and deliver this incredibly important program to those who need it most."
"As a result of DSM Dyneema's support, thousands of officers have received Below 100 training and have taken it back to their regions," Stockton said. "Policies have been changed, training programs have been modified and the overall commitment to operational safety has dramatically improved."
DSM Dyneema joins a distinguished list of previous recipients of the Gold Badge of Service Award including 5.11, Panasonic Computer Solutions Company, Blauer Manufacturing, Streamlight and Safariland.
More information on Dyneema can be found at www.dyneema.com. More information on Law Officer may be found at www.lawofficer.com, while the Below 100 program may be found at www.Below100.com.
About Elsevier Public Safety
Elsevier Public Safety, an Elsevier business unit located in San Diego, Calif., produces public safety products and services including JEMS (Journal of Emergency Medical Services), FireRescue Magazine, Law Officer, EMS Today Conference and Exposition, www.JEMS.com, FirefighterNation.com, www.LawOfficer.com and other products.
About Elsevier
Elsevier is a world-leading publisher of scientific, technical and medical information products and services. The company works in partnership with the global science and health communities to publish more than 2,000 journals, including The Lancet (www.thelancet.com) and Cell (www.cell.com), and close to 20,000 book titles, including major reference works from Mosby and Saunders. Elsevier's online solutions include SciVerse ScienceDirect (www.sciencedirect.com), SciVerse Scopus (www.scopus.com), Reaxys (www.reaxys.com), MD Consult (www.mdconsult.com) and Nursing Consult (www.nursingconsult.com), which enhance the productivity of science and health professionals, and the SciVal suite (www.scival.com) and MEDai's Pinpoint Review (www.medai.com), which help research and health care institutions deliver better outcomes more cost-effectively.
A global business headquartered in Amsterdam, Elsevier (www.elsevier.com) employs 7,000 people worldwide. The company is part of Reed Elsevier Group PLC (www.reedelsevier.com), a world-leading publisher and information provider, which is jointly owned by Reed Elsevier PLC and Reed Elsevier NV. The ticker symbols are REN (Euronext Amsterdam), REL (London Stock Exchange), RUK and ENL (New York Stock Exchange).