K-9 Kaptures: Training Pays Off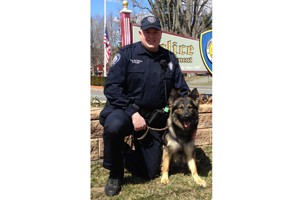 I recently retired my first dual-purpose patrol K-9 Rocky, a Dutch Shepherd, after nine years of service. Now I'm partnered up with my new dual-purpose patrol K-9 Rudy, a mid-coat Sable Shepherd.
Even as a second time handler, I went through the transition of being in training to hitting the streets and applying all of my training to real-life situations. I'm sure every handler goes through the same doubts of whether all the training they put into their new dog will pay off.
I was on my first week of patrol February 2013 with my new K-9 Rudy. I observed a car swerve over the center line, and figured I had a drunk driver. I pulled the vehicle over and, upon approaching the vehicle, saw that the operator was wearing rubber gloves and a large amount of cash was strewn all over the passenger seat.
Of course the operator wouldn't give consent to search his vehicle so I deployed K-9 Rudy and he did an exterior sniff of the vehicle with a positive alert (passive alert) at the driver's door. Rudy then conducted a sniff of the interior of the vehicle, alerting to the money as well as the floor behind the passenger seat. After a thorough check of the vehicle, I located a small amount of cocaine under the passenger seat and the operator admitted to the fact that the cash was proceeds from a drug sale. The operator was arrested and searched and then transported for booking. During the booking process, an additional 4.8 grams of cocaine was located in his buttcrack.
Every handler gets that feeling of joy and pride when their K-9 has their first find on the streets. It's a feeling only handlers can understand. You think to yourself: All of that training has paid off and you know that you can and have to trust in your dog.
Send Us Your K-9 Kapture Story!
Have a K-9 story you'd like to share? Send up to 800 words to
editor@lawofficer.com
, along with a high-resolution (1–2 MB) photo of you and your K-9, and we'll review and post it to our website. And don't forget to "like" our new
K-9 Officer Facebook page
.