K-9 Kaptures: Always Trust Your Dog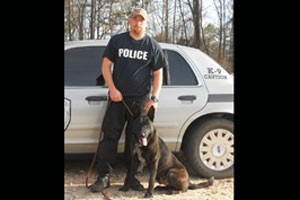 I was recently asked to be the start-up K-9 officer at our small department in Dagsboro, Del. I attended Custom Canine Unlimited, a K-9 training facility in Georgia, for four weeks.
My K-9 partner, Ary, and I returned home on Dec. 22, 2012. On Dec. 23, 2013, I was asked to work a four-hour shift to come back and cover my paperwork, which had piled up when I left. Within an hour of being at the office, I was asked by our State Police Department to assist with a search of a suspect who ran from a traffic stop. My partner and I quickly responded to the scene.
I began casting Ary in the area the suspect was last seen. Within moments he picked up an odor and began tracking down a paved road. Once tracking down the road for approximately 400 yards, he turned slightly into the wooded area. After he got to there, he continued to follow the odor for another 100 yards before I observed a large tree, which had fallen down.
Ary jumped on the tree and came to a complete stop. (He is trained not to bite unless otherwise told — or if the suspect begins to struggle.) At that time I ran up to the tree and observed a subject matching the description of the suspect who ran. He was told not to move. State Police placed the suspect under arrest.
Two days later on our first complete shift, we were asked to search for a suspect who had fled from a vehicle for unknown reasons. Again, I casted Ary around the suspect vehicle, and he was able to pick up on an odor.
While tracking into a wooded area, K-9 Ary located the suspect's jacket. At that point we approached a large, deep drainage ditch. Ary didn't hesitate to jump in to continue the search. During training, I was taught to always trust my dog, so I jumped in after him.
After a short swim, Ary picked up an odor on the other side of the ditch and tracked approximately 100 yards into the woods. As he approached another ditch I saw arms fly in the air as the suspect said "I give up" over and over again.
The suspect was arrested. The jacket later yielded marijuana, cocaine, crack cocaine and various medications. Later it was also realized the suspect has several warrants for his arrest. Although this time we came out cold, wet and muddy, it was a truly amazing feeling to see the training and dedication pay off.
The moral of the story: Always trust your dog!
Send Us Your K-9 Kapture Story!
Have a K-9 story you'd like to share? Send up to 800 words to
editor@lawofficer.com
, along with a high-resolution (1–2 MB) photo of you and your K-9, and we'll review and post it to our website. And don't forget to "like" our new
K-9 Officer Facebook page
.