Gunman Possibly Behind Massive Detroit Office Fire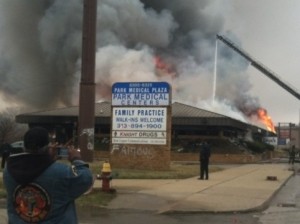 DETROIT (WDIV) – Employees of a medical office in Detroit said they first heard gunfire Tuesday morning before their building was engulfed in raging flames.
The fire broke out just after 9 a.m. at offices in the 8300 block of Grand River, which is right off I-96 between Joy Road and West Grand Boulevard.
Employees told Local 4 a man, who does maintenance for the offices, flashed a gun as he walked through the building looking for an ex-girlfriend. Employees said they heard shots and ran out of the building. Minutes later, it caught fire. Some of the employees said they heard an explosion before seeing the flames.
Podiatrist Stuart Kirschenbaum said he was at his office in the building when he learned about the shooting from a security guard who yelled that a man had grabbed a woman and was firing at others.
"I'm watching 43 years of my life go up in flames," Kirschenbaum said. "This is the one thing I've always feared that would happen. And it's happened."
Clinical psychologist Kim Logan Nolin also has an office at the single-story building. She said she was on her way to work about 9 a.m. when a worker already at the building called to her to say it was on fire and that there had been a shooting.
It appears the man, using accelerants, started the fire in two places.
During a press conference, Detroit Police Department Inspector Dwane Blackmon said the fire had been confirmed as arson but that investigators were not able to confirm if the man and his intended targets had died in the fire.
"The building is not a safe building right now. So, we're really not able to confirm anything, as far as bodies," Blackmon said.
Police said no one else in the building was hurt.
At the time, heavy smoke from the fire filled the area, making it difficult for drivers in the area.
Copyright 2013 by ClickOnDetroit.com. All rights reserved. This material may not be published, broadcast, rewritten or redistributed.